Kris Humphries is probably wiping the sweat off his brow and celebrating because his ex-girlfriend, Myla Sinanaj, says she's not pregnant with the NBA player's child.
This is good news for Humphries, who was likely worried after TMZ reported that "sources directly connected" with Sinanaj confirmed that Humphries' ex was three months pregnant and that Kris was "definitely the father."
Those sources appear to be misinformed, as Sinanaj told the blog AllWestEverything.com that she's not pregnant:
I don't know who there 'sources' are but since this all happen I still have NOT ever spoken yet everyday tabloids say I can't keep my mouth shut. Its such BS. 1. I'm NOT pregnant 2. I'm not signing no NDA's or getting any $ or going against Kris in his divorce.I dropped my law suit because after things got out of hand me and kris realized our friendship was bigger than the BS I never cared. About $ he's a GOOD guy and so many people don't know that because he's so negatively portrayed but I knw who he is and that's why I trust him and dropped everything with no settlement. When you love someone you don't want to hurt them so all these bs 'sources'Have ppl thinking I'm saying all this stuff I'm not its frustrating. Ppl will never understand my reasons for still caring for Him after everything he did but I love him and that over rides any $ or fame.
Sinanaj claims the pregnancy rumor began on July 4, after she tweeted, "I can't wait to have a little Boy lol sounds corny but a lil me running around dressed like his daddy? Too cute."
Some believe that Sinanaj sent the tweet intentionally to start drama, but it appears that she thought it wise to stop the rumor before things got out of control. On Monday, the NBA player's ex posted a photo of herself in a bikini to help dispel the rumor she helped start, writing:
Uhhh ooooo Loook No babyy bump! #Shocker yes I'm a thick curvy girl *All natural I'm comfortable in my skin lockerz.com/s/223643026

— Myla Sinanaj (@NYAngel24) July 9, 2012
On Tuesday, Sinanaj also took to Twitter to deny reports that attorney Joe Tacopina fired her as a client after she lied about being pregnant:
Oh and My EX lawyer did NOT fire me!! I asked him for a invoice 1week ago and dropped my suit so @pagesix False reporting thanks -

— Myla Sinanaj (@NYAngel24) July 10, 2012
PHOTO: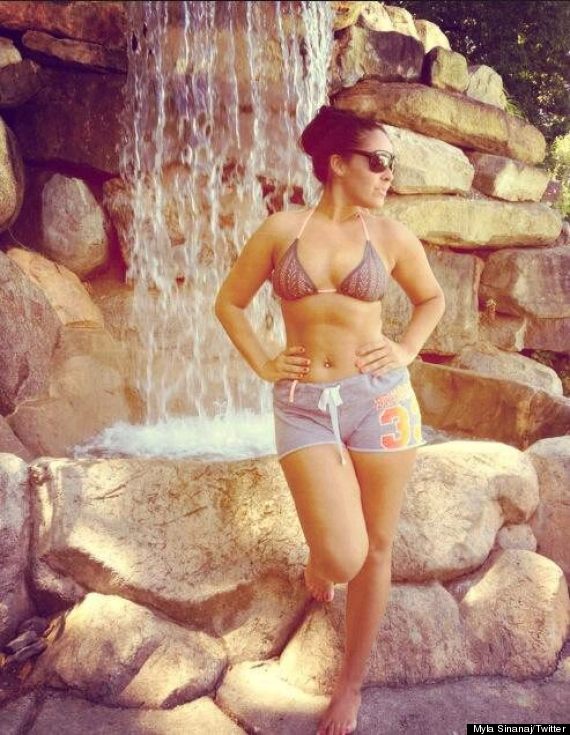 Celebrity Photos Of The Week:
BEFORE YOU GO