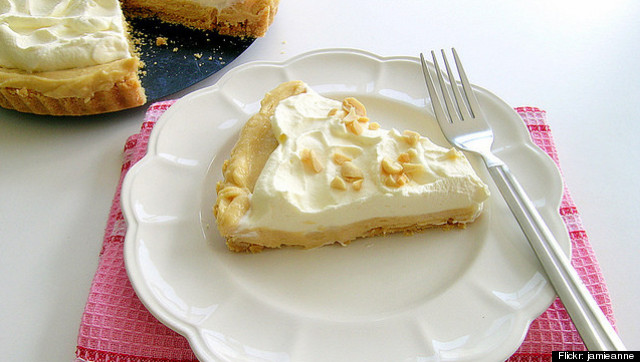 Rich Hill, Missouri is proud to be "famous for the Fourth." Their Independence Day celebrations are looked forward to by the locals all year. After their world-record-breaking pie auction this Fourth of July, they may be famous for the most expensive pie ever auctioned off on Earth (the award for the most expensive pie ever sold goes to the UK's Fence Gate Inn).
This year's Rich Hill charity pie auction brought in a whopping $3,100 for Jara Mumma's peanut-butter banana pie. The lucky winner? Her grandfather, 75-year-old farmer, Jerry Mumma, who beat out another local, Bud Fillpot, for the pricey confection. The proceeds of this charity auction go to funding the next year's Fourth celebrations.
The idea of contacting the Guinness World Records people was from the auctioneer, Larry Hacker. He told the LA Times, "I thought, what the heck, we're famous for the Fourth -- why not be famous for this?"
The Kansas City Star reports that they should have the official Guinness results within four weeks.
[Update: via commenter jayfiske, who appears to be Jay Fiske of Northwest Benefit Auctions, "Jay Fiske here. Not sure if it is a record (and don't really care, because it is not about me, it is about the charity) but in March 2011 I sold a pie as the opening item at the Desert Christian Academy auction (Palm Desert, CA) for $6,000 I believe."
If Jay's claim is true, that would certainly be in contention for priciest auctioned pie, but we'll leave the ultimate decision to the experts at Guinness.]