by Erik R. Trinidad
So everyone's going gourmet these days -- even the mega fast food chains, or at least they're trying to. Burger King has made strides in ameliorating their menu this year, but now it's Taco Bell laying down the tablecloth, for their new Cantina Bell menu. Their new offerings not only summon new ingredients to the kitchen supply of the long-running Mexican-inspired fast food chain, but they aim to elevate the Taco Bell brand into something more respectable than ever before. Obviously, this is a sign of the times; Chipotle spearheaded the fast food gourmet burrito/bowl revolution -- and quite successfully -- and it appears as if the folks at Taco Bell are following suit to compete head on with similar items. Here's how they rate.
The Claims: After half a century -- Taco Bell recently celebrated their 50th anniversary -- the fast food chain obviously needed some new blood to stir things up a bit in their kitchens. Enter Chef Lorena Garcia, world-renowned chef who's worked at several respected higher end restaurants, a restaurateur herself, and even a guest on Top Chef Masters. It's that clout that led her to create Taco Bell's new Cantina Bell menu -- that and a lot of money, I assume -- which introduces corn, black beans, cilantro and a few other new ingredients to Taco Bell's stock. There's even a new recipe for guacamole that is now distributed with a spoon; Chef Garcia forbid that it come out of a gun anymore (much to my chagrin, since I've often poked fun of their almost iconic guacamole caulking gun for years).
Heading the Cantina Bell menu is the Cantina Bowl, with a "citrus-herb marinated chicken, flavorful black beans, guacamole made from real Hass avocados, roasted corn & pepper salsa, a creamy cilantro dressing, and freshly-prepared pico de gallo, all served on a bed of cilantro rice," says TacoBell.com (560 calories). The bowl is also available with steak (550 calories), or just veggies (540 calories). All these options and respective ingredients are also available wrapped inside a flour tortilla, as a Cantina Burrito (chicken, 760 calories; steak, 750 calories; veggie, 740 calories).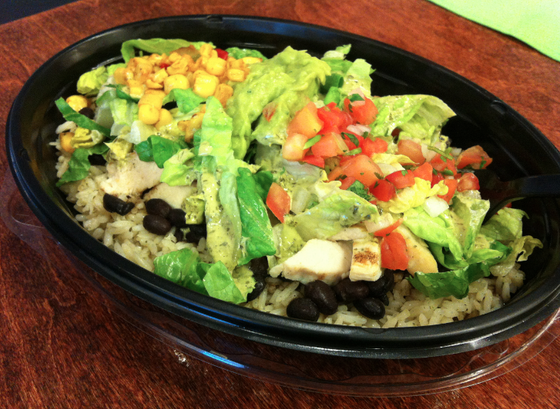 The Analysis and Verdict
The Cantina Bowl: It's refreshing to know that these new items are not a mere reshuffling of existing inventory, packaged and labeled as "new," as Taco Bell has done many times over for years. The Cantina Bowl truly indicates a reboot for the company, not only in taste and texture, but in their overall brand. Sure, they still offer their signature less "gourmet" items (don't worry, Doritos Locos Taco fans; it's not going anywhere), and they have yet to embrace a business model which uses local or organic vegetables and meats, but this is a step in that direction, or so it seems. If this truly is a "baby step" down that path, it's quite a stride when you look back as see what Taco Bell has been known for all these years: cheap Mexican-inspired American fast food.
So how's the new bowl? It's good. Rather than have flavors mix and fuse into a generic "Taco Bell flavor" like so many other items on the menu, each of the ingredients is evident in each forkful: the rice, the corn, and romaine lettuce, which adds a crunchy texture. The seasoned chicken is nicely seasoned, sliced, but not as juicy as it could be, but hey, one thing at a time, I suppose. In the end, the bowl is on par with one you might get at Chipotle, only without the more sustainable ingredients. For my tastes, it could use a little spice -- everything on the menu does for that matter -- but that's what the hot sauce packets are for. Grade: A-.
The Cantina Burrito: However, full disclosure: I originally sampled the new Cantina Bowl at a Taco Bell PR event, in which Chef Garcia herself unveiled the Cantina Bell menu -- held in a conference room and not an actual Taco Bell restaurant. I assumed that the presentation of bowl's ingredients was prepared in the most ideal way in a controlled environment -- not that that changed the ingredients. To follow-up, I went to a Taco Bell in New York City to investigate a real scenario. Gone were the Taco Bell reps and the celebrity chef herself, and it was your regular Taco Bell with the assembly line in the back. I sampled the Cantina Burrito this time, with steak instead of chicken. Like the bowl, the ingredients blend together well without fusing into that generic Taco Bell taste, and it's similar to one at Chipotle, with the added bonus that the burrito is grilled, with char on the side for a bit of crunchy texture and a nice added taste. The steak however, consisted of the same strands of beef as before; the new Cantina Bell menu only claims to have revamped the chicken recipe, so I guess that's expected. Grade: B.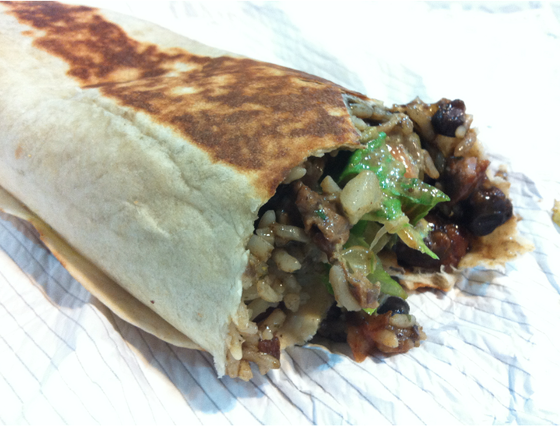 Looking behind the counter to the production line, I noticed that the new chicken comes pre-sliced and pre-cooked in plastic bags from the warehouse. It's merely opened and put into the metal containers to be reheated and served -- which is unlike Chipotle's model, if you care. I also noticed that while the guacamole was in fact, now being served with a spoon, the sour cream for the other items was still shot out of a caulking gun -- so I still have something to poke fun of at Taco Bell despite all the changes.