We're a fan of spotting fashion twins in the wild: Queen Elizabeth and Princess Charlene, Lindsay and Ali Lohan and even Michelle Obama and ScarJo.
But today, thanks to a Twitter tip, we came upon the GREATEST TWINSIES OF ALL TIME: President Obama and Ann Romney.
Yes. Really.
Unfortunately, no, Ann Romney wasn't wearing dad jeans, nor was POTUS sporting a $990 Reed Krakoff bird shirt. It all started on June 27th at the White House Picnic, where the prez kept things casual in a white and blue-striped button down, khakis (with no pleats!) and a standard-order dad belt. (Michelle, if you remember, also looked amazing in a yellow and green dress.)
And then, on the 4th of July, style became bi-partisan. Ann Romney and her husband Mitt greeted supporters at a rally in New Hampshire, and it turns out Ann took a fashion cue from POTUS, opting for a checked blue and white shirt (a different, but similar enough pattern), khaki bermuda shorts and yep, a dark belt. While both sport watches, Ann Romney is the only party with her nails painted red.
Can fashion bravely serve as a non-partisan panacea in Congress? Uh, probably not.
But regardless, we have to ask our favorite "twinsies" question: who wore it better? Check out the pics below and cast your vote, based on either erudite sartorial scrutiny or arbitrary political whim.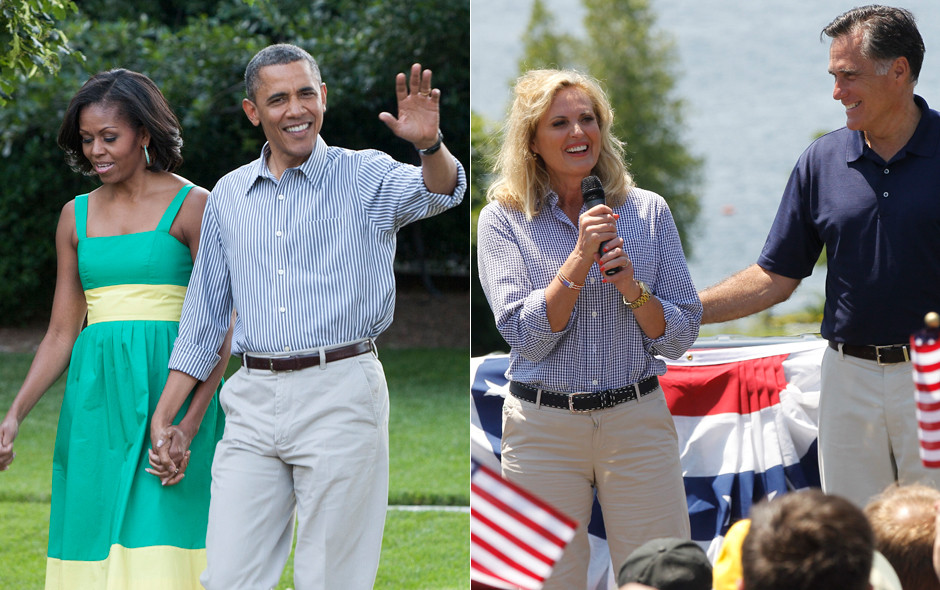 Who wore these outfits better?
Want more? Be sure to check out HuffPost Style on Twitter, Facebook, Tumblr and Pinterest.