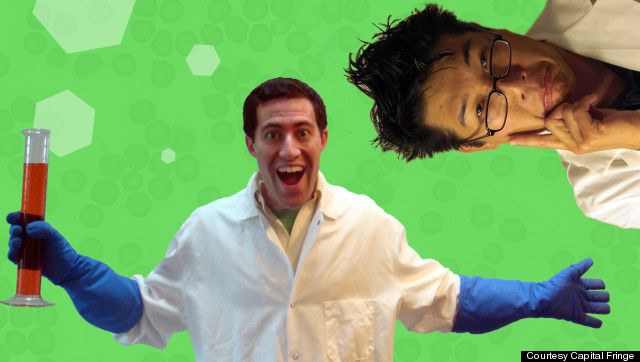 WASHINGTON -- Capital Fringe 2012 begins Thursday evening and with it will be a plethora of artists, both of the professional and amateaur set, staging shows throughout the nation's capital. It's impossible to check out every production, all 137 of them. Rather than get overwhelmed, we've scoured the list to find some of the most exciting shows.
Below are our top 10 picks for shows of Capital Fringe 2012 we're hoping to see.
"Aaaaaargh! Murder!" at Mountain
Follow the excessively-British sounding Sergeant Inspector Barnaby Tweed as he helps Lord and Lady Killington solve the mysterious murder of all their servants, in this satirical murder story. -E.L.
"Children in the Mist: A Horror Opera" at GALA Theatre
This "Horror Opera" sounds deliciously campy. A father and son find themselves trapped in a grocery store haunted by sinister condensation. Terror and singing apparently ensue. -E.L.
"The Circle" at Baldacchino Gypsy Tent
This audio-walk presentation is one of the reasons why a festival like Capital Fringe is exciting and needed. Audience members pop in headphones, leave the theater and let the cast determine their route. The story of a women falling between her future, present and past memories. -B.W.
"Colony" at Caos on F
Recommending dance is always tricky. Recommending anything by Melissa Krodman isn't. In this piece Krodman and Kelly Bond perform a 50-minute dance duet. Krodman, whether dancing, clowning, hosting or generally entertaining, is a solid bet. -B.W.
"DC Trash" at Fort Fringe - Bedroom
Billed as a chance to see the city from inside a trash truck, this show promises to expose the "upside, downside, and underside of Washington life" in the past, present and future. -E.L.
"Dr. Science's Science Time Science-va-ganza!" at B103 - at Mount Vernon United Methodist Church
Story tellers Adam Ruben and Chuck Na produce and star in this parody of science demonstrations. Baking soda volcanoes, dry ice and everything that made science class fun entertains until something goes wrong. -B.W.
"Flight of Fancy (A Steampunk Ballet)" at GALA Theatre
We previewed this ballet for good reason. It's a futuristic steampunk ballet that embraces Victorian style. Well thought out dance that isn't depressing will win us over every time. -B.W.
"iConfess" At Source
The Washington Improv Theater's contribution to the Fringe Festival, this improvised musical takes one secret from an audience member and turns it into a feature length production. Let someone's shame become your entertainment. -B.W.
"Mindset" at First Congregational United Church of Christ
This eclectic piece is the brainchild of a local teen, and takes an unorthodox approach to growing up. The show "fuses pop, rock and classical music with dance and narrative to define a new genre of theatre." -E.L.
"Nevermind the Bollocks, Here's a Midsummer Night's Dream" at Warehouse
The classic play, transplanted into New York City's punk heyday. In addition to the usual romantic mayhem, the show promises leather jackets, florescent hair and three chord tunes. -E.L.
PHOTO GALLERY
Steampunk Ballet
BEFORE YOU GO