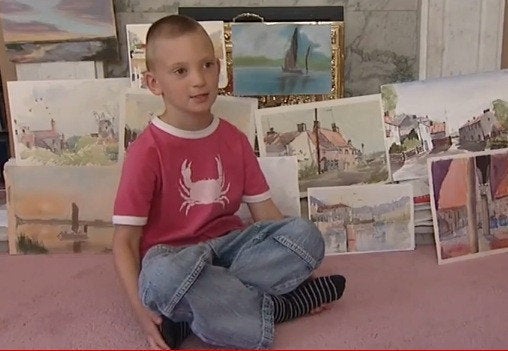 Kieron Williamson sold 24 paintings in about 15 minutes for the cool sum of £250,000 ($386,000), the Daily Mail reports. This by itself wouldn't be incredible news, except for the fact that the artist is only nine years old.
The youthful English painter might be four years older than the pint-sized "action" painter Aelita Andre, but his eye is apparently more discerning than his precocious counterpart's. Eschewing lesser quality materials, Williamson started painting in oil as well as watercolors from the tender age of five, creating bucolic scenes of the English countryside for a hungry group of domestic and international buyers. His mother writes on his website: "Kieron has always insisted on good quality adult art materials. He's never been happy with poster paints!" And why would he be, when his paintings sell for thousands?
Our question: How does one hold a retrospective for a nine-year-old? Moreover, how does one hold a straight face while doing it?
In case you were worried about helicopter parenting, Michelle told the Daily Mail that "'He no longer gets up at 6am and knocks out a painting before school." At least he's able to sleep in before a full day at elementary school.
What do you think, readers? Is this young artist receiving fame much too early? Where can he go from here? Scroll down for images of Kieron Williamson's work and let us know your thoughts in the comments section.
PHOTO GALLERY
Nine-Year-Old Artist Kieron Williamson
BEFORE YOU GO