We can't even imagine Teresa Mastropierro and her boyfriend Derrick Tseng's reaction when their realtor led them into a row house in Gowanus, an up-and-coming Brooklyn neighborhood with an industrial feel, after warning them that they needed to "have a vision." From the outside, the home looked like every other on the block. Inside, every inch was entirely plastered from floor to ceiling with paper labels and clippings.
At first glance the pages seemed random and arbitrary, with candy wrappers and other household product labels lining the doorway. But a closer look revealed that these collages were carefully curated by the former owner, and documented nearly forty years of his life. Because they had previously lived only a few blocks away, Mastropierro then remembered the artist: an older gentlemen who not only decked out his interiors, but made sculptures from plastic bottles and packages in his front yard as well.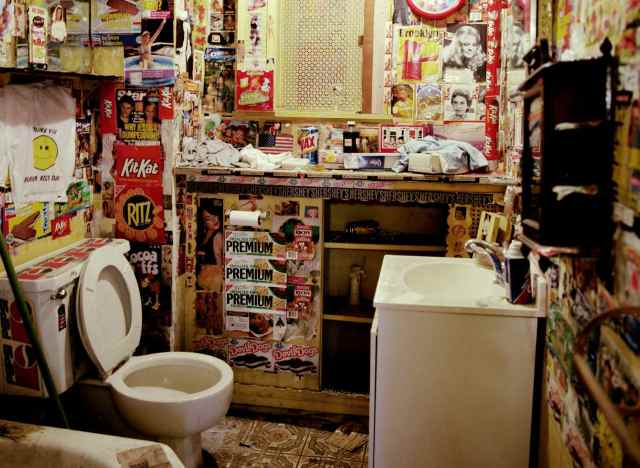 Photograph by Scott Irvine
When Mastropierro and Tseng decided to purchase the home and remodel it as their own, they knew very little about the previous owner. They knew from the deed that he had purchased the home in 1976, but many of his clippings and autographs dated back to before then, so the couple assumed he'd been saving them for a master installation. Neighbors said he'd been friendly and reserved, and had lived in the home until he passed away in his eighties, but they knew very little else. Most of what the couple knows about him can only be deduced from the recordings on his walls. Based on the discharge papers he hung, it appeared he was a World War II veteran. He collected headshots of celebrities and television personalities from the seventies and eighties, and they know he enjoyed body-building based on some of his images and his collection of free-weights.
The couple has mixed feelings about their plans for demolition and remodeling because it means destroying the previous owner's art work. At this time, they have no plans for construction in the basement, so his collages will remain there for them to enjoy. To honor the former owner and his art, the couple has taken hundreds of photos of the home. Flip through the slideshow below to see some of the images of this unusual installation.
PHOTO GALLERY
House of Labels