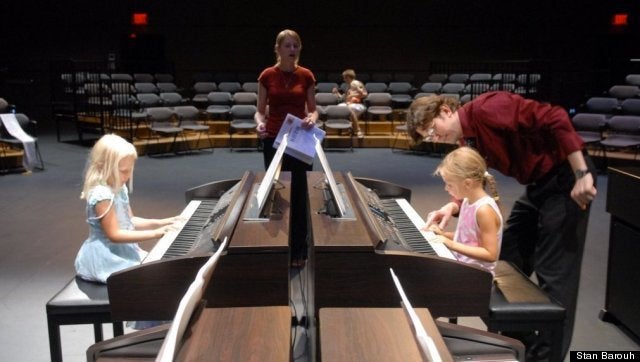 COLLEGE PARK, Md. -- Forget Carly Rae Jepsen and Nicki Minaj this weekend. Instead, escape to a world where delicate arpeggios and creative cadenzas are the musical order of the day. Even those who don't usually call themselves classical music fans might find something to entice them to the Grand Piano Party that will rock the University of Maryland's Clarice Smith Performing Arts Center on Saturday and Sunday.
Held as part of the William Kapell International Piano Competition & Festival, the free event will feature performances by competition finalists, music-themed refreshment, a piano room for children, and demonstrations of all types of strange and wonderful keyboard instruments, like Yamaha Clavinovas, which "play like a piano but can imitate hundreds of instruments, allowing for a four to sound like a symphony" according to the university.
And if you thought that all pianos were classical instruments, stop by the moog synthesizer demonstration to have your world turned upside down. The early synthesizer played a key role in many of the most hallowed rock classics by artists like the Beatles, the Beach Boys and Stevie Wonder.
This post has been updated to reflect more accurate schedule information.
CORRECTION, 2:05 p.m..: This post has been updated with the correct venue name -- the show was not held at the Clarence Smith Performing Arts Center, as was originally published, but at UMD's Clarice Smith Performing Arts Center.

BEFORE YOU GO