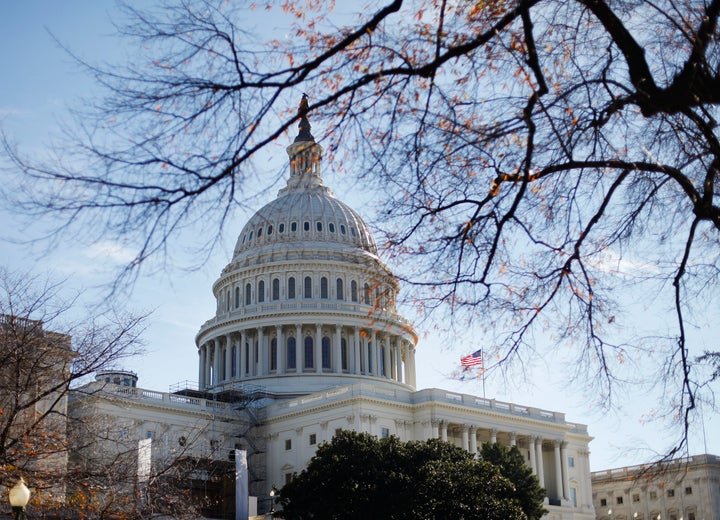 WASHINGTON -- The newest super PAC ready to make a splash in the fall elections may be the least likely. Friends of Democracy -- which is headed by Jonathan Soros, son of billionaire hedge funder George Soros; Ilyse Hogue, former MoveOn political and communications director; and David Donnelly, executive director of Public Campaign Action Fund -- seeks to build political power on the issue of reducing the political power of big money.
This isn't your garden-variety campaign finance reform group. Starting with seed money from Jonathan Soros, who is described as the super PAC's "thought leader," the group aims to raise $5 million to $8 million to spend on defeating lawmakers this November and thereby build a majority in Congress supportive of the group's reform platform.
"This is not a new issue," Soros told The Huffington Post. "It didn't show up overnight when Citizens United happened, but there is more attention being paid to it, more visibility, more anxiety, more disgust about what's going on than, probably, since Watergate." He said his super PAC intends to harness "actual political power around a reform agenda that is around and available for Congress to execute."
That agenda starts with what Soros called "citizen-led elections." The blueprint to which Friends of Democracy points is the public campaign financing system in New York City, which New York Gov. Andrew Cuomo is currently pushing to extend to the whole state.
"It's a version of public financing that focuses on engaging candidates with their constituents to find the means of support," Soros said.
The New York City model provides a six-to-one match for small-dollar donations up to $175 each. That means that a $20 donation to a candidate becomes $120, and a $175 donation becomes $1,050.
"The basic idea is that [if you don't] create an alternative to the current system of financing, where there's a high degree of dependency on large donors and independent expenditures, you're not going to achieve anything," Soros said.
The group's goals also include enhanced disclosure around independent expenditures, particularly from nonprofits that appear to mostly spend money on politics; lobbying reform; real regulation of super PACs and independent groups; and reform of the Federal Election Commission.
When asked about the obvious irony of using the super PAC form to combat the influence of money in politics, Soros responded that Friends of Democracy is different from most campaign finance reform activism today.
"Our objective is not to end the ability for private individuals to spend their money in politics," he said. "That's not the policy objective, and that's not the end result. Our real objective is to create an alternative to the [candidates'] dependency that that creates so that you can have a system that has some real integrity."
"My own view is that you can't get money out of politics, and it's not necessarily worth trying. You can take the money out of one place and move it down the chain," Soros continued.
Donnelly noted what he sees as another difference between the new super PAC and traditional campaign finance reform efforts. "I think we really want to build a real political, electoral consequence for being bad on these issues and to show the benefit of being good. Very few organizations in the campaign finance issues think about doing electoral work at all. Those that do tend to do it at a smaller scale than this," he argued.
The new group is registered as a hybrid PAC -- also known as a Carey PAC after the court case that allowed the structure -- which means it consists of both a super PAC, raising unlimited funds to be spent on independent expenditures, and a traditional PAC, raising limited funds in a separate account to be contributed to candidates.
Friends of Democracy plans to target between 20 and 25 congressional districts in this fall's elections. Donnelly named four members whom the super PAC hopes to defeat: Reps. Dan Lungren (R-Calif.), Chip Cravaack (R-Minn.), Nan Hayworth (R-N.Y.) and Jim Renacci (R-Ohio). While the majority of the targets are Republicans, Donnelly said there are some Democrats on the list.
The group will not, however, target someone if his or her opponent would not be more likely to support reforming the nation's campaign finance system. "We won't try and take out anyone where we wouldn't replace them with someone better," Hogue said.
Contributions from the traditional PAC account will go to "champions" of Friends of Democracy's policy agenda.
The group is in the initial phase of raising money and reaching out to donors. Soros said that he has not discussed the super PAC with his father, who contributed more than $30 million to independent group efforts to defeat President George W. Bush in 2004, and is not seeking contributions from him.
Friends of Democracy is not soliciting from for-profit corporations, although it has received some in-kind donations from Public Campaign Action Fund, a 501(c)(4) nonprofit that voluntarily discloses all its donors on its website. Those donors include wealthy investors David Bonderman and Donald Sussman, the Service Employees International Union, and Communications Workers of America.
CORRECTION: An earlier version of this story misstated the titles held by Ilyse Hogue and David Donnelly. Hogue was the political and communications director, not the executive director, at MoveOn. Donnelly is the executive director, not the president, of Public Campaign Action Fund.
BEFORE YOU GO
PHOTO GALLERY
Donors Giving $500,000-Plus To Super PACs