Wildly hailed as one of Venetian Renaissance master Titian's greatest works, "Diana and Actaeon," depicts the moment in which the goddess Diana meets Actaeon. In the painting, obscured against the stone arch, sits a stag's head which foretells Actaeon's coming fate. An outraged Diana will transform Actaeon into a stag and he will be eaten by his own hounds. The painting is one in a series of Titian's paintings depicting scenes from Ovid's "Metamorphoses." These "poesies," as Titian described the series, were painted for Philip II of Spain.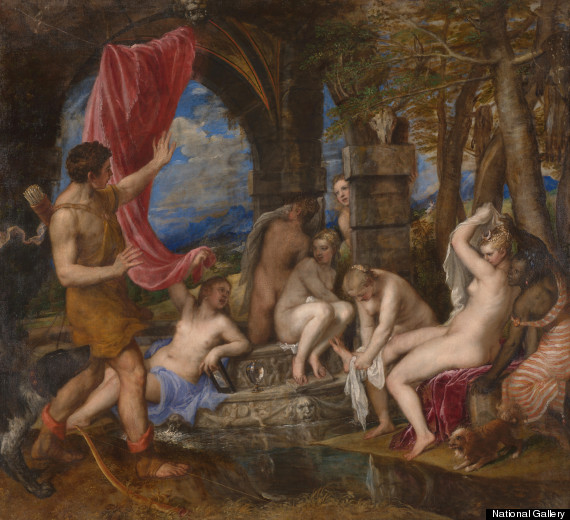 The National Gallery in London has acquired three of Titian's paintings from that series and they will be seen together for the "first time since the 18th century." An exciting day indeed. To celebrate (and part of the Cultural Olympiad's London 2012 Festival) the gallery has brought together an array of artists commissioned to respond to the three paintings on display: "Diana and Actaeon," "The Death of Actaeon," and "Diana and Callisto."
One of the works to promote this celebration is a beautiful, eerie, and mystical short film retelling Titian's "Diana and Actaeon." The film was directed by the talented writer-director duo, "Tell No One," also known as Luke White and Remi Weekes. Instead of the bath scene that Titian depicts, the story unfolds at a countryside estate. The film does a tremendous retelling of the original myth and painting and at times the visual effects are so stunning they could be paintings themselves.
The National Gallery exhibition, "Metamorphosis: Titian 2012" runs from July 11 - September 23.
WATCH:
Metamorphosis from Tell No One on Vimeo.