Is it miraculous? Plenty of the faithful say so, flocking by the hundreds to a tree in West New York where onlookers have spotted an image of Our Lady of Guadalupe, a Roman Catholic icon of the Virgin Mary.
According to NBC New York, Johanna Ramos was one of the first to see the image. "It took me awhile, but when I realized the colors and shape of it, it was really noticeable," she told the station.
Crowds have flocked to the tree's 6-inch-long image, leading police to erect barricades near the intersection of 60th Street and Bergenline Avenue to better direct the flow. Many believe the carving holds mystical powers, reports Fox5.
According to CBS2, residents say the carving appeared after a man from Mexico was killed in a crash in the area.
What does it mean? "It's something special for the people of West New York," said one onlooker, Jose Alequin, to The Jersey Journal. "I think it's a message for the good people to take care of their families."
As of this writing, The Archdiocese of Newark has not found the tree to be anything other than a "phenomenon," cautions CBS2, though priests at nearby churches will happily speak with anyone in need of counsel.
PHOTO of Our Lady of Guadalupe, side by side with the tree [ via NBC 4 New York]: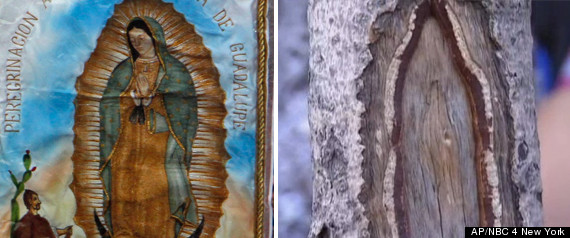 Check out a gallery of other religious visions below: