CHICAGO -- It is Day Number Three of the Pitchfork Music Festival in Chicago, and the third and final day of this here Hipster Woodstock positively bulges with musical talent. Performances by Beach House, The Field and Real Estate dot today's lineup, with Vampire Weekend closing out the show at 8:30 Central Time.
Can you see that Mansard Roof through the trees? We sure can, and we're here to cover it all for you.
That's right, hepcats, we're going to be live-blogging everything -- the sights, the sounds, the smells, the discarded snuck-in liquor bottles, the ironic handkerchiefs, the plaid, the turtle-shell eyeglasses, the smoke-filled port-a-johns, whatever -- below, with both words and photos. And if you want to follow along at home, we've got a live stream of the musical performances above, in high-definition, courtesy of our friends at Pitchfork.com.
In other words: Put on your Ray Bans, folks, and prepare yourself for the last day of one of the hippest weekends of the year. At the risk of being cliche: Get ready to rock.
07/16/2012 12:51 AM EDT
Thank You, And Good Night!
Some technical issues forced us to stop earlier, but thanks to everyone who followed and listened along!
07/15/2012 7:20 PM EDT
Yes, Lady Gaga Was Here; No, I Didn't See Her
The official Pitchfork Twitter reported that Lady Gaga, of all people, is here at the festival, as a guest of promising California rapper Kendrick Lamar. Word is that she simply watched him from the side on the stage, and that she didn't actually perform with him or make her presence known. I do not believe she is wearing a dress made of bumblebees, but again, I didn't catch her.
If you're actually in Chicago, at the Festival with me, prepare your answer for tomorrow at work now: "Yes, Lady Gaga was here; no, I didn't see her."
07/15/2012 7:12 PM EDT
Chavez: A View From The Side
Here's a photo of legendary post-hardcore band Chavez performing live at the Pitchfork festival, from an exactly perpendicular angle of photography (or maybe not):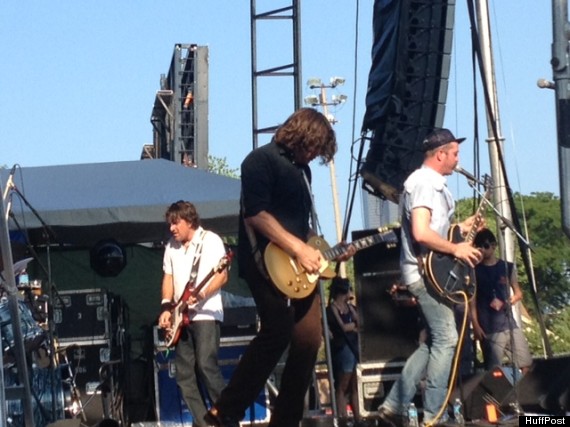 07/15/2012 7:09 PM EDT
Is It Acceptable For A Man To Wear A Tank Top?
Senior Fashion Correspondent Jason Gilbert reporting from Chicago here. A debate I had with a friend of mine not two weeks ago about whether or not the male tank top was a stylish or even acceptable look appears to have come to a head here at the Pitchfork Festival.
Because of the heat, many of the male concertgoers have left their sleeves at home and opted for tank tops, leaving their arms exposed to the sun and to the eyes of passersby everywhere. Does it work? It works better for some than others; initially -- given all of the horror I have visaged -- the best I could say for the male tank top is that certain men do not embarrass themselves wearing one (though, forsooth, not every man even clears this low bar).
Perhaps my cynicism is in the minority, however, and this look is not only creeping toward acceptability but is headed toward the summer-month mainstream. Those who wear the look best seem to maintain hairless arms (a must) and toned -- not overly muscular, but toned -- triceps (not a necessity, but it helps). Arm tattoos do not appear to be a hindrance.
I would advise readers not to try the male tank top at home unless they are veterans or have a friend or significant other with them that will be honest about how it looks. Don't wear one out on a first date, or to an opera, funeral, or wedding, if you can avoid it.
And now, back to the music.
07/15/2012 6:25 PM EDT
Ty Segall And The Men
The sets of The Ty Segall Band and The Men overlapped somewhat, which is a shame, because those two bands, along with Friday night performers Japandroids, have recorded what are probably the best rock n' roll albums of the year.
And though on vinyl (or through your iTunes, whatever) these two acts equal each other in greatness, there was little question, jetting between the two performances, which one puts on the better show. Ty Segall is a born performer, a showman, a scenery-eater, while The Men appear to recede backwards whenever they aren't playing, and sometimes when they are.
First, Ty Segall, the San Francisco hard rocker whose distorted, often short tracks are informed by equal parts garage rock stereo blasting and the muffling effects of sludge. By the end of the first song, Segall and his band had worked the crowd into such a frenzy that they were lifting up even the heaviest gentleman observers and that many of them were inspired to remove their shoes and throw them at the stage (an act which I do not think carries the same offensive meaning as it does in, say, Afghantistan. Here it was a sign of rock n roll induced hysteria, the vibrational shakes, being so almost religiously overtaken by the power of music (and, okay, whatever substances you've consumed) that you automatically remove your sandals and hurl them in the air at the site of your gods).
And then there was The Men, the band on the Pitchfork festival that is perhaps hardest to Google. And just like they've obscured themselves in nomenclature, so too do they shrink while on stage. Even though they play loud, angry, tortured rock, and jump around and thrash their heads when they perform, none of them effectively stands out enough to make a real impression. There are three different lead singers, and each of them sounds about the same while howling over guitar riffs; between songs, one of them would mutter "Thanks" into the microphone as though apologizing for something. There was no real boldness, or emotion, or outbursts, or any of the impromptu stuff you might expect from a band's live performance; they hardly, in fact, acknowledged that they were even performing for a crowd. It was as though they were performing in front of a one-way mirror at rehearsal; if they wanted to engage with the crowd at all, then they certainly didn't say anything.
Perhaps they're performing for themselves. At the end of their set, which saw forays into punk rock, metal, alt-country, and anything else with three guitars and drums, one of the three singers leaned forward into the microphone and said, with what sounded like mockery, "THANK you for COMING to our SHOW."
And then they left. Huh.
None of that's a criticism of their music, of course, which is raw, wounded, powerful stuff. Some of the music is of such raw excellence that the crowd could do nothing but jump up and down and friggin' rock the hell out, just as they did for the entirety of Ty Segall's performance. Otherwise, we were not so much watching a performance as we were listening to a great band out of ultra-loud speakers.
Perhaps Segall, who has swagger and stage presence in excess, could lend some to his friends in The Men. Not sure if that's a surgical process, but if you're The Men, it wouldn't hurt to at least call the hospital and ask.
07/15/2012 6:05 PM EDT
Bandanas Are So Insanely In Right Now, You Guys
Forget music for a moment -- if there is a new hipster fashion movement that has emerged from the Pitchfork Music Festival, then it is perhaps the bandana.
Tied around your forehead, wrapped around your arm, or protecting your neck from sun, the bandana seems primed to become the newest, most important hipster fashion accessory, threatening even to replace Ray Bans and leg warmers. I was not prepared for this, in anyway, but the bandana has clearly dominated this scene in ways I had not previously imagined: Anyone who is anyone, it seems, is wearing a bandana.
This is perhaps due to the heat -- the sun has been out in a cloudless sky for five hours now, and the trees in Union Park provide very little shade. Too, the Chicago Reader is handing out free yellow bandanas near the back of the park. And though the Chicago Reader variety is easily the most visible here, many concertgoers have certainly packed (or wrapped, or tied) their own from home.
Don't look now, but here comes the bandana.
07/15/2012 4:31 PM EDT
Iceage and Thee Oh Sees
Iceage is one of those bands of scrawny teenagers that seem to emerge fully-formed out of basements every once-in-awhile. Playing fast, angsty rock -- their debut LP "New Brigade" last year had something like 13 songs which lasted 24 minutes -- the waifs of Iceage (seriously, they wouldn't be out-of-place as extras in an off-Broadway performance of Oliver! -- slammed through a similarly quick set on the main stage here. The lead singer growled and roared and raged, but the audience either wasn't quite drunk enough or just couldn't connect with the speed and intensity of the music and gave up. Give these chaps time to mature, however: They have chops, though at something-teen years old and ninety-five pounds apiece, there's room to grow.
Many of those who fled Iceage walked over to see indie rock veterans Thee Oh Sees on the backstage. Thee Oh Sees are a well-traveled hard-rocking five-piece -- two guitars, keyboards, a drummer placed front and center for optimal smashing, and a woman whose sole role, besides the occasional backup shriek, seems to be to smash her hand against a tambourine as hard as she can.
This the crowd ate up. Instantly things got raucous, with full water bottles being launched into the sky and several chaps dragging their heat-exhausted and dehydrated friends out of the pit. Thee Oh Sees dip their toes into psychedelica and the garage scuzz of The Flamin' Groovies, but it's mostly guitar-first rock and roll, with a tendency toward hypnotic, infinite loops of chords. It was a good set and even provoked one guy to scream "I LOVE MUSIC!" (See previous post).
Thee Oh Sees are relative stalwarts of the scene, with several albums under their belts and almost a decade of experience. It showed: They gave one of the strongest performances of the festival so far. Who doesn't love music?
07/15/2012 4:21 PM EDT
What Is The Hipster "Free Bird?"
Watching psychedelic rockers Thee Oh Sees, I heard a fellow next to me yell, in between songs, "I love music!"
That's well and ironic and all, but it got me thinking: At country and rock concerts in the American South, where I'm from, the fellow certainly would have shouted out "Free Bird," in a usually futile request to get the band on stage to play Lynyrd Skynyrd's master opus.
I haven't heard a single "Free Bird!" here at Pitchfork, however, and so I'm wondering: Is there a song that those on the Pitchfork scene shout for in quiet moments at concerts? What is the indie "Free Bird"? Who would even be the honest that a drunken, semi-coherent festival-goer would yell for the band on stage to cover?
Maybe I'm overthinking it, and the hipster "Free Bird" is just "Free Bird," and I just haven't heard anyone yell it yet. I'm going to keep listening, however -- for someone to request some Pixies, or Neutral Milk Hotel, or R.E.M., or Sonic Youth ("Teenage Riot"?) or whatever. Will keep you posted; for now, however: I do love music. That's a sentiment I think most can agree with.
07/15/2012 3:34 PM EDT
Gin And Bear It
Concertgoers here are forbidden from bringing in outside food or drink -- bags are searched at entry -- but if you're a member of the press, you get to come in without the requisite inspection.
That became quite clear to me when a few journalists next to me here in the press tent pulled a full bottle of Gordon's gin from a backpack and started pouring generous -- really, really generous -- amounts of it into their Vitamin water. We're talking at least half-and-half, if not more gin than Vitamin water.
Not sure what paper or website they write for, but whatever it is, that outlet is going to have some REALLY good coverage.
07/15/2012 3:25 PM EDT
And We're Live, With Unknown Mortal Orchestra
Sunday is off! Unknown Mortal Orchestra -- a newish three-piece band out of oh-so-hip Portland, with guitar, bass, and drums -- has taken the Green Stage under sweltering heat and blue skies here in Chicago. The guys on stage look cool, in thin paisley button-downs and Indian-ish kurtas. They play a hypnotic kind of music, somewhere in between pop and rock, heavy on repetitive, catchy guitar loops, though the real star is lead singer Rubian Nelson's voice, a high, plaintive thing that flutters above all the noise and gives the band its distinctive sound.
Its a small crowd so far -- maybe a couple thousand, in a thick haze of unmistakable smoke -- but UMO's got them transfixed (it might have something to do with the smoke, but still). Their set ends with a long, spaced-out guitar jam that would not have been out-of-place at a Phish concert. In paisley and Indian-ish kurtas, though, UMO aren't so far from deadheads.