When you can't get the real thing, an illustration will do.
That was presumably Marie Claire South Africa's logic when casting its August 2012 covergirl. The fashion mag wanted one Kate Middleton for its late summer cover. But since the duchess refuses to pose for any magazine (even Vogue!), Marie Claire South Africa had to get creative. Editor Aspasia Karras told the Telegraph, "The cover is actually a hyper-real illustration of Kate, meant to be a fan art tribute to fashion's new royal icon."
The cover headline touts a princess who "Wears SA's Best Local Designs" but fully acknowledges the "fan-art" aspect with an asterisk: "Of course she doesn't. But she should."
Inside the issue, five local illustrators dressed Catherine up in designs from local designers; on the cover, she "wears" a multi-print dress by Clive Rundle.
Wishfully drawing Kate into South African designs reflects a common sentiment: every local fashion market would like to see Catherine in its own wares, pumping the local economy as she does the British retail scene. (In other words, everyone wants a piece of The Duchess Effect.) But some might find the hyper-real illustrations, similar to the one that appeared on Tatler, slightly creepy.
At least they didn't Photoshop her smile with rotting teeth. Even the ugliest dress is better than that.
See the cover below and sound off in the comments. Do you like the fan art cover or should magazines stick with real, authorized photos of Kate?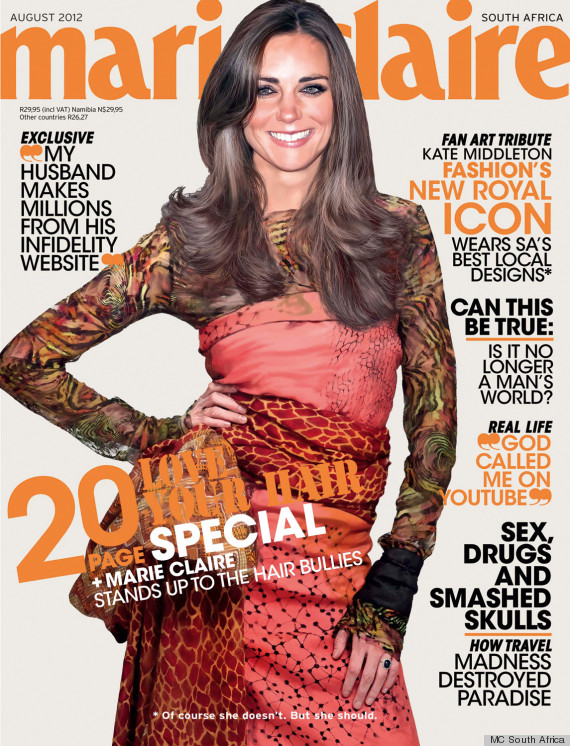 See Kate "posing" for more magazines:
PHOTO GALLERY
Kate Middleton's Magazine Covers
Want more? Be sure to check out HuffPost Style on Twitter, Facebook, Tumblr and Pinterest.