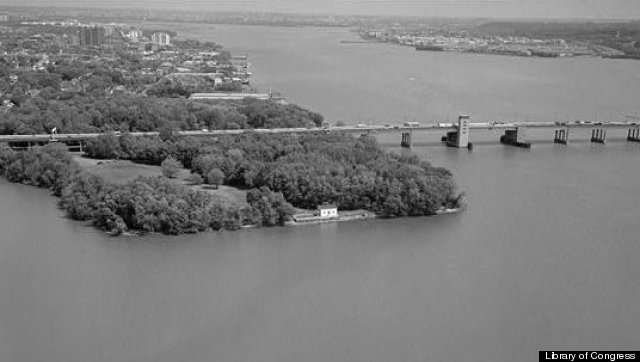 WASHINGTON -- Happy Residence Act Day! Celebrate the creation of our nation's capital (and our hometown) with a visit to the newly reopened Jones Point Park at the edge of Alexandria, Va.'s Old Town to check out an important part of D.C. history, one with deep Masonic ties.
Two-hundred twenty-two years ago, on July 16, 1790, then-President George Washington signed the Residence Act of 1790. This law gave Washington the power to choose the location of the nation's permanent capital somewhere along the east bank of the Potomac River.
Alexandria on the Virginia side of the river was initially included in the original city of Washington, even though this inclusion wasn't actually authorized:
On January 24, 1791, Washington issued a proclamation stating where the beginning of the district would be: "Running from the Court-House of Alexandria in Virginia, due South West half a Mile, and thence a due South East course till it shall strike Hunting Creek, to fix the beginning of the said four lines of experiment." This land in Alexandria, however, was not included in the original Residence Act, and a amendment was required.

As T. Michael Miller writes in his history of Jones Point, "Washington was concerned that the new capital contain good port facilities, and thus, Alexandria, a vibrant maritime center was included...." It should be noted, that the southern boundary of the district was placed just four miles north of Mount Vernon.
The first of the "boundary stones" -- a series of 40 stone markers demarcating the city's edges, many of which are not in such hot shape today -- was laid by the Alexandria Masonic Lodge on April 15, 1791, at Alexandria's Jones Point, near today's Woodrow Wilson Bridge. You can see an old image of it from the D.C. Public Library's archives here: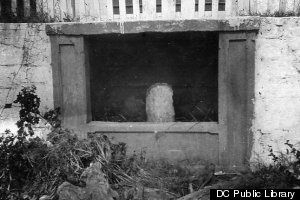 For a panoply of complicated reasons -- slavery, of course, top among them -- Alexandria was retroceded back to Virginia in 1846 along with what is today Arlington County.
But the boundary stone at Jones Point remains. You can see it in Jones Point Park, which has just reopened after a couple of years of refurbishment. (The park is also a fine place to enjoy birdwatching, bike riding and fishing. It's also got a very pretty restored lighthouse).
The park connects with the Mt. Vernon bike trail and a bike path that travels over the Wilson Bridge to National Harbor, Md.
BEFORE YOU GO