The unveiling of the 2013 Pirelli Calendar, normally released in December, is a ways away. But GQ Germany decided to jumpstart the excitement with a "lavish calendar photo spread" dedicated to the model-filled calendar, which celebrates its 40th birthday this year.
And why not? The models are all featured stark naked in warm-weather locales... seems more appropriate for August, anyway.
Unfortunately for those hoping for a sneak peek of 2013's big shoot, GQ Germany's spread is devoted to vintage pics from past calendars. The winning shot? A topless Rosie Huntington-Whiteley from the 2010 Pirelli Calendar, posing with her back to Terry Richardson's camera in nothing but lil' shorts. Mysteriously, her nipple seems to have pulled a disappearing act...
WARNING: The photos below contain full-frontal nudity and may not be safe for viewing at work.
Other models to earn spots in the retrospective include Naomi Campbell, Natasha Poly and Ana Beatriz Barros, who does the sexy-messy-eating thing with a hunk of watermelon dribbling down her chest. [Ed. note: do men even find this sort of sloppiness attractive?] And a Pirelli retrospective wouldn't be complete without a vintage Kate Moss photo -- although there are plenty to choose from, GQ Germany's fave was from 1994, shot by Herb Ritts.
While on first glance (and second and third and fourth glance...) the photos simply show beautiful naked women naked, GQ Germany's roundup nicely juxtaposes the unique shoots, from Mario Sorrenti's broody black and white photos in 2012 to Mario Testino's souped-up glam in 2001, allowing the differences between the models, photographers and even historical eras to shine through.
See? Looking at topless models in GQ is so totally educational.
Check out Rosie's new cover plus some of GQ Germany's favorite vintage shots below.
NSFW PHOTOS: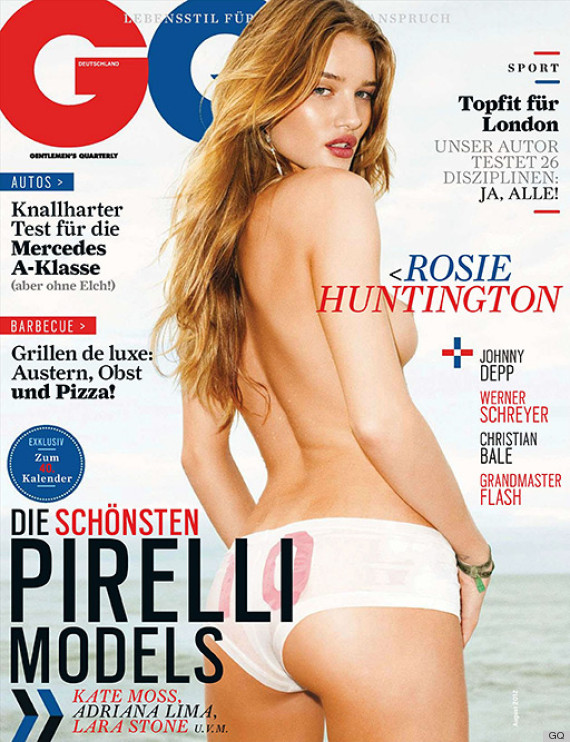 Want more? Be sure to check out HuffPost Style on Twitter, Facebook, Tumblr and Pinterest.