We received more than 200 submissions for our Golden Gate Bridge photo contest, which we held in honor of our favorite International Orange icon's 75th birthday in May.
And after hours of deliberation, we're proud to announce that the winning image was shot by Sausalito resident Jason Braun.
(SCROLL DOWN FOR WINNING PHOTO AND SUBMISSIONS)
Braun is no stranger to finding inspiration from the city's bridges.
"There's just so many great photos of the bridge out there, so I was trying to get a unique take on it," he said. "I thought it might be neat to line the TransAmerica building with the Golden Gate Bridge, perfectly framing it within one of the towers. I'd done something similar with the moon and the Bay Bridge, so I figured it was worth a shot."
Take a look at Braun's photo (story continues below):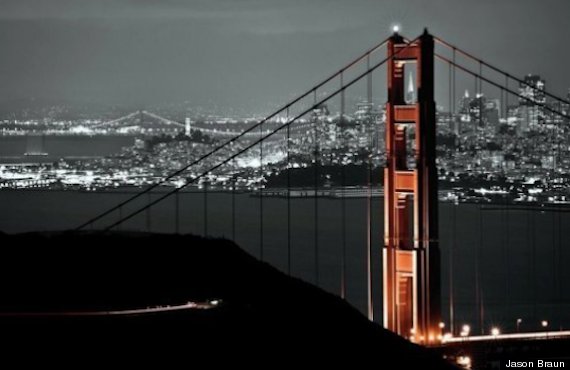 Capturing the perfect image was no easy feat. "I drove up above the bridge at dusk, parked, walked until I got the perfect lineup, setup my camera/tripod with my 200mm lens, and then waited until the sun went down," Braun explained. "I really lucked out with the car swooping in from the left."
As his prize, Braun will receive a custom-framed poster of the bridge from legendary local designer Rich Silverstein's anniversary collection.
Take a look at all the fantastic submissions below. Thanks for playing!