Ever dream of looking like a mermaid at the beach? Neither did we, but we did watch "The Little Mermaid" about a million times back in the day. So you can imagine how happy the little girl inside of us was upon learning that mermaid tails for purchase (not mermaids, unfortunately) are an actual thing.
3-Fins, a company started by Vancouver mom Monika Naumann, sells mermaid tails made out of bathing suit material. The tails come in shimmering shades of gold, blue, pink, green and red, and there are even fins stuffed inside to make the look more, er, authentic.
Naumann was inspired by her own daughters' obsession with mermaids and started creating the imaginative swimwear back in January. But don't get too excited -- the tails don't come cheap and will set you back $245 plus shipping. While some parents may consider this a small price to pay to fulfill a child's fantasy, Naumann told TODAY.com that adults can reap the benefits of mermaid tails, too:
Parents who have ordered the fins for their girls almost always write and tell me how much they love it. But mermaid fins aren't just for kids. They help you get a great workout and can have you swimming faster than you can imagine in the ocean.
Well, consider us convinced. We're not sure if our doggy-paddling will look too graceful in an iridescent tail, but we do know that only a fool would pass up a chance to channel Ariel in non-Disney real life. Plus, celebrities like Katy Perry and Rihanna have already tried the sea siren trend, so why not the masses?
Would you wear a mermaid tail at the beach this summer? Scroll down for a photo AND video.
PHOTO: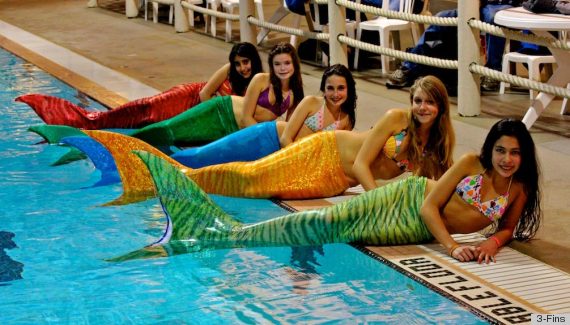 Check out some celebs who also want to look like mermaids!
PHOTO GALLERY
Celebrities As Mermaids
Want more? Be sure to check out HuffPost Style on Twitter, Facebook, Tumblr and Pinterest.