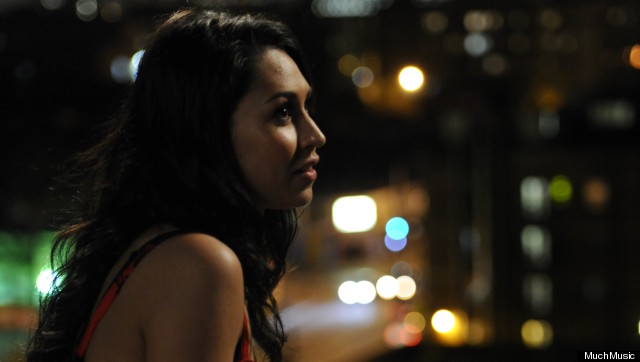 Hollywood life isn't all it's cracked up to be.
That's the glaring truth a group of young 20-somethings have been quickly discovering on the edgy Canadian drama "The L.A. Complex." Returning for its second season tonight (in Canada at 9 p.m. on MuchMusic), the TV series follows aspiring actress Abby (Cassie Steele), stand-up comedian Nick (Joe Dinicol), handsome Australian actor (Jonathan Patrick Moore), struggling actress Raquel (Jewel Staite), gay hip-hop songwriter Tariq (Benjamin Charles Watson), dancer Alicia (Chelan Simmons) and successful hip-hop artist Kaldrick (Andra Fuller). Naturally, all of them are hoping to make it big in Tinsel Town, but there are more hard knocks than glamour, glitz or red carpets.
On an exceptionally warm Friday afternoon, it's pretty quiet on the Toronto set. There's a brief quarrel between two fresh faces -- Simon (Michael Levinson) and Beth (Dayle McLeod) -- but that's happening behind closed apartment doors. Even the inviting courtyard pool is void of any splashy activity. Fortunately, on an adjacent set, executive producer/writer Martin Gero ("Stargate: Atlantis," "Bored to Death") and Staite were ready to sit down and speak exclusively to HuffPost TV about the new season, Staite's character Raquel, and the gritty realism behind the show.
Article Continues After Slideshow!
PHOTO GALLERY
'The LA Complex' Season 2 Photos
Reality Bites
"The L.A. Complex" doesn't pull any punches. Every week, the series tackles some controversial issue. In retrospect, two heavy topics -- Alicia's sleeping her way to the top and Tariq's secret romance with in-the-closet Kaldrick -- really resonated with Gero and Staite.
"I thought the Alicia storyline was definitely one I had heard before in Hollywood," says Staite. "It's a very sad and very real thing that a lot of girls experience, especially dancers in Hollywood. That one felt the most authentic to me."
"I was hesitant to do a story about being gay because it's well-covered ground on television," offers Gero. "The reality is no one in hip-hop is out. It's insane. We were talking about what to do with that storyline this year, wondering if Kaldrick would come out. You Google 'Gay hip-hop artist' and there's no one. Even auditioning for the gay parts in our show, and I've never seen this in my career, we'll have 50 percent no-shows. It's still a big deal. The gay sex scenes need to have equal time with the straight sex scenes. That's important to me. It's tough for straight guys to get their mind around it, but thankfully we found Benjamin Charles Watson. And Andra Fuller is riveting to watch."
Growing Pains
There's always a learning curve when it comes to developing a series and seeing what works -- or perhaps what doesn't. "The L.A. Complex" is no exception.
"We adhered to a pretty strict rule last year," explains Gero. "We tried to check in with every character every act. I feel like it sometimes slowed down the first act a little bit. There isn't a show on television right now trying to do six segregated stories an hour. Our show feels big. What we wanted to figure out this year is how we can have a little more criss-cross with our characters, without it feeling like "Friends." We don't want forced relationships that aren't necessarily there. Raquel and Connor have this really beautiful, damaged friendship we explore more. Nick and Abby have gotten back together, so we're seeing where that goes. Georgina Reilly, who played Sabrina last year, really knocked it out of the park, so we've found a place for her this season."
Multi-Layered
Too often, Raquel was only concerned with shifting her career back into high gear. As a result, she came across as manipulative -- and to be blunt, bitchy.
"I think she can be," agrees Staite. "Raquel can lash out when she's feeling insecure, but that's just a cover up for a million other issues. She seems very strong and has had to be very confident her entire life. She's used to putting on this demeanour, but for the most part, she's very vulnerable and extremely sensitive, especially about getting older and not working as much as she used to."
Fallout [SPOILER ALERT!]
"The L.A. Complex" characters experienced more downs than ups last year, especially Raquel. As a semi-washed up actress, she couldn't seem to book a gig and in the finale, was shocked to find she was pregnant by Connor. Apparently, things are going to get much worse, if that's even possible.
"Raquel starts to spiral out of control," reveals Staite. "A lot of people thought it was fun to see Raquel hit rock bottom, but she didn't. This year, she really, really does. She gets quite far down there in terms of not knowing what to do with her life and feeling completely and utterly out of control. It starts to reflect in her career and with Connor. Raquel doesn't know what to do. It's going to take her truly hitting rock bottom in order to start climbing back up and dealing with the issues she's got."
"Telling Connor [about the pregnancy] is definitely resolved right away and they do try to explore some sort of genuine relationship," continues Staite. "I do think there is love there. They are incredibly similar people. They are both crazy and self-obsessed. Besides that, they are very sensitive and self-destructive. Him physically, and she's more mentally and emotionally unstable."
Revolving Door
Hot guys and gorgeous girls pursuing their Hollywood break are a dime a dozen. There's never a shortage in sight, and "The L.A. Complex" will reflect that, with tenants coming and going.
"The first episode is called 'Vacancy,'" reports Gero. "The thing we always knew about doing this show is that characters will leave and characters will join. Two of last year's leads are going to leave the show and some of the others come back in a recurring way. Then we introduce some new characters that move in. It's important to have an ebb-and-flow feel."
"Beth and Simon are new," he adds. "We started to talk about some of the tropes in showbiz and you see tons of these 'Toddlers & Tiaras' shows, with kids. So how do we do an interesting version of that? We've put a brother and sister in the mix, 18 and 10, who are in a desperate situation of their own. Everyone we've met in the complex definitely wants to be in show business, but Beth couldn't give a crap. Beth has other pursuits, but Simon seems pretty good at this, and they're strapped for cash. They've come to Los Angeles to make a go of it, and of course, overestimate how easy that can be. It's another way to filter the city through some fresh eyes, through a 10-year-old and an 18-year-old from Winnipeg."
Wish List
Life hasn't been easy for Raquel. It's why Staite knows exactly which path she'd like to see her character go down next.
"I get to do some fun stuff this year, but I want to see her go the opposite way," says Staite. "I want to see Raquel succeed, get a show, and get a taste of that stardom, just to see how she handles it this time around. I want to see if she appreciates it a little bit more, which she probably won't. She'll probably abuse her power in a really awful, hilarious way."
On Location
"The L.A. Complex" is usually filmed in Toronto, except for a week when they move production down to Los Angeles for exterior shots. This season, they even squeezed in a few scenes.
"It felt like a different show," acknowledges Staite. "We didn't have our crew. When you do a series like this, you get attached to your crew, and it's a lot of the same people this year. We missed our guys and being on set here. We did this whole segment on Hollywood Boulevard and Highland. It was a total zoo. It was insane. Martin was like 'This is a complete nightmare!' We couldn't hear anything we were saying. There were crazy people coming into the show and pointing at the prosthetics going 'What happened to you bro?' in the middle of the take. It was a total circus, but fun and exciting."
Tough Exterior
In person, Staite is sweet, funny, relatable and down-to-Earth. In other words, she's the anti-Raquel. But there's one aspect of her alter-ego Staite can totally relate to.
"Every actor has that thick skin and the ones that don't drop out of the business," notes Staite. "Our job is to be rejected on a daily basis. We're judged on how we look, how we seem, and not just our acting skills. It's the superficial things that really shouldn't matter and don't matter in a lot of jobs. That's very difficult to hear and you have to develop that tough skin and not take things personally. That's in me most definitely, but I've always been one of those people where my life comes first and my job comes second. That's the only way to get through difficulties in the business."
The second season of "The L.A. Complex" premieres July 17, 2012 on MuchMusic at 9 p.m.
BEFORE YOU GO