Food Informants is a week-in-the-life series profiling fascinating people in the food world. We hope it will give you a first-hand look at the many different corners of the food industry. Know someone who would make a great Food Informant? Tell us why.
Shawn Askinosie is the founder and chocolate maker of Askinosie Chocolate. Since founding Askinosie Chocolate after working in criminal law for 20 years, Shawn's social business model has been featured in O, The Oprah Magazine and numerous other publications. Shawn sells his chocolate throughout the U.S. and exports to stores around the world. He received an Honorary Doctorate of Public Affairs degree in May 2012 to "recognize his contributions as a community leader, an entrepreneur, a role model and an inspiration to students and others."
Askinosie Chocolate is a small batch award winning chocolate manufacturer located in Springfield, Missouri, sourcing 100% of their beans directly from the farmers. Shawn travels to regions of Ecuador, Honduras, the Philippines and Tanzania to work directly with the farmers and source cocoa beans for his chocolate. This allows the chocolate to be traced to the source and labeled Authentic Single Origin Chocolate. It also enables Askinosie Chocolate to profit share with the farmers, giving them a Stake In the Outcome™. The Askinosie Chocolate mission is to serve their farmers, their neighborhood, their customers and each other; sharing the Askinosie Chocolate Experience by leaving the world a better place than they found it.
Read on to learn about Shawn's trip to Tanzania to source cocoa beans and work with the community farmers.
Sunday, July 1
3:44am: I am not totally sure if this is Saturday or Sunday. My watch says it is Sunday but my body says it's tired as hell. I gently rise from my assisted sleep in 20C as our Kenya Airways 767 from London is over Northeastern Africa as we make our way to Nairobi. I can't take the Bose noise canceling headsets off and am thinking of super gluing them to my ears. Right now I am not "cancelling" but listening to Suspicious Minds for the 54th time doing the drum solo down the aisle of the dark plane. I don't think anyone saw me. I am leading our Askinosie Chocolate University trip to remote Tanzania with 15 students, two teachers, our School Board president, a computer expert, a photographer and hunger relief specialist. This is one of our student outreach programs in Springfield where our family owned, small batch chocolate factory is located. The students had a one week immersion on the Drury University campus to help prepare them to meet our cocoa farmers, experience the culture, and understand our business.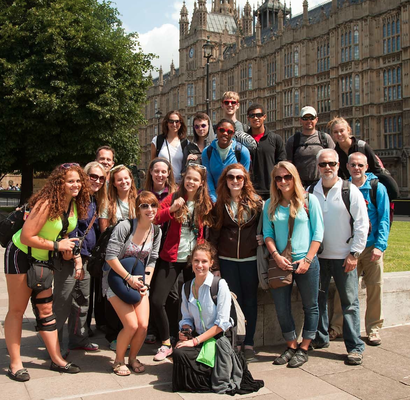 We picked these kids out of many applicants. They're all standouts.
8:40am: We landed late from London to Nairobi. Not good. We scramble to our huddle outside the gate for a count and then run to Gate 9. Security check and lots of stress as I try to find Kenya Air agent who can answer the question about our luggage. "Will they it make it to Dar?" "Probably" was the reply. I start running through in my head what we will do without luggage for 21 people knowing we have to catch another flight in Dar. We are bringing laptops, wiring and the whole set up for the "Khan Academy in the box" for Mwaya Secondary School near where we buy our cocoa beans and this would not be good if they don't make it. Luckily, the flights from Dar are our charters (two single engine planes) and hopefully they can wait. The last two hours have been pretty tense.
3:10pm: We land at the Mbeya Airport in our two single engine Cessna Caravans after a two and a half hour flight from Dar es Salaam.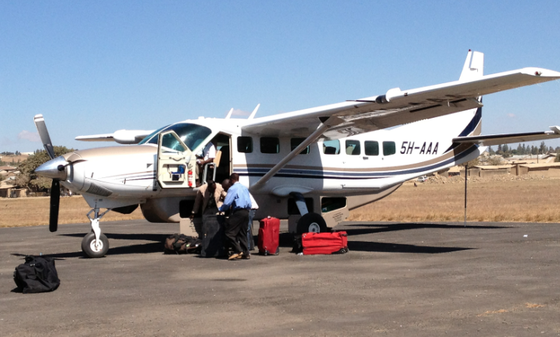 The flight was not as choppy as the previous time I flew this route. I am so sleepy but the ride was made better by my first Stoney Tangawizi of the trip -- a carbonated ginger soda. I love this stuff and you can't get it in the U.S.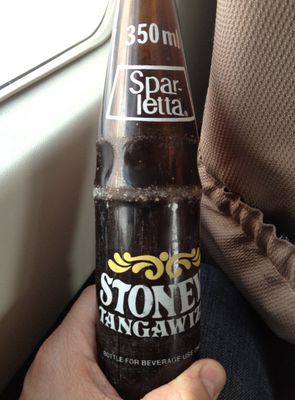 7:49pm: We arrive by coaster (a small bus) at our hotel in Kyela, Tanzania (two hour ride from Mbeya) after starting our journey to get here on Friday. It's been one long Sunday.
9:45pm: Really!? A freaking snake in my toilet (that wont flush down). Toilets here require added water. He won't go away -- he's fighting it. Finally got him to flush after the fifth water pour from my handy plastic pitcher on top of the toilet. He was not that big but big enough to wonder where he is now. I am tucking in my mosquito net and getting into bed for the first time since Thursday night.
Monday, July 2
7:00am: The fan above my bed sounds like a scene from "Apocalypse Now" so I turned it off and did not use it for the night. There actually is a hot water "button" for the shower with one temperature: scalding, like hot enough to brew coffee.
8:30am: Pre-meeting breakfast with Daudi and Kellen Msseemmaa. They helped me organize this trip. They are the co-founders of Empowered Girls and set up clubs at schools in Tanzania. They have been my friends for several years. Kellen also works for us part time working with our farmer group in nearby Tenende. Breakfast is Sambusa, a fried dough with minced meat and spices.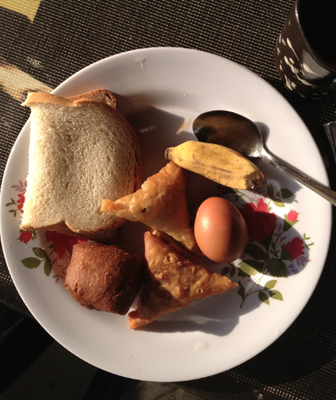 I will have another one of those please. The Africafe instant coffee was actually not that bad (sorry my pour over friends). I can't leave out plain ole bread with some truth-in-labeling "Fat Spread." Good news is that it is rich in vitamin A. Had to have some of that.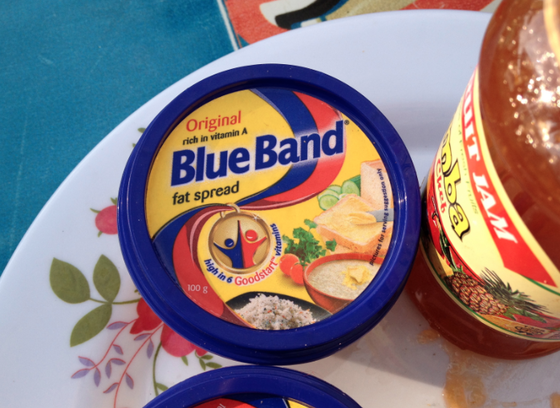 10:00am: After the proverbial visit to the local officials we finally head to Mwaya Secondary School about 20 minutes outside of Kyela and our Chocolate University partner school. We were greeted by Headmaster Sedikea. He is always smiling.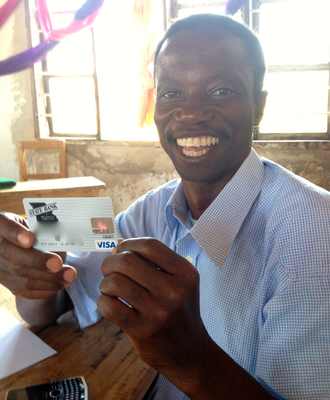 There were a couple of short speeches as the students listened and then I presented the school with laptop computers and explained what we would be doing together with the students and teachers over the coming week.
10:30am: Our three groups are now all working at the same time on the school grounds. I hover from group to group. I first go to a classroom and help set up our rice bag stamping and filling assembly line. We previously paid for one metric ton of rice from the PTA (about $1 per kg). This rice is famous throughout Tanzania -- the best. We are making 1,000 bags for them to put on my container of cocoa beans. We will sell the rice and all of the profit will fund a school lunch for one year for these Mwaya students who now have only one meal per day. Our students and the Mwaya students are working together stamping the front and back of the rice bags.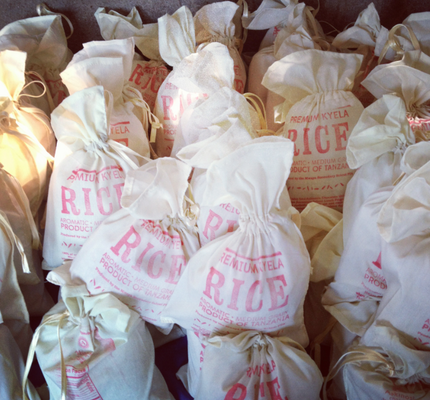 11:15am: I check in on Eric Ham and his team setting the laptops and projectors in five different classrooms. Oh -- and this school does not have electricity. We bought a generator to last until the government brings power to the school, which we hope is soon. Eric is working with a new computer teacher at the school who is funded by one of our donors. They are running wire from the generator site to the rooms now. Our students are helping and this does not look that safe to me with a student standing on a desk.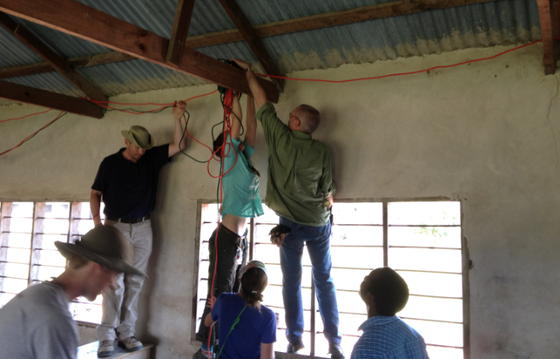 11:25am: There is not much for me to do with the computer team as they are making progress and certainly don't need my help. I check on the nutrition baseline data team. They are working with Convoy of Hope's David Edson in the courtyard of the school measuring height, weight and arm circumference of the students. A local nurse is learning how to use the arm circumference tool. Soon all 1000 students will be measured before we begin the lunch program so we can see if the meals have an effect on these health data points. I circulate between these 3 groups to see what I can do to help and there is anything they need; spending most of my time in the rice stamping and bagging room. I am beginning to worry that we won't finish all of the rice.
12:10pm: PTA meeting with a larger group than any PTA meeting I can recall back home. We are meeting in what looks like a teacher meeting room and they have clearly decorated it for our visit with beautifully colored fabrics. I am seated at the head table along with the Headmaster. We explain to the assembled PTA members why we are there and what we are doing in partnership with Mwaya. They thank us for books we donated last year. Before that donation they had no books. I don't understand how you have a high school with no books. The main thing I want to discuss is the lunch program funded by our sale of the rice. I explain the background of the program and that the hallmark of this program is that THEY are the ones doing the work -- not us. They are the solution to their students hunger problem and this program will work without donations. They impress me with their quick answers and that they have already developed a "food committee" to handle all of these questions well before we arrived. This is the news I was hoping for.
Then PTA members begin to speak a word of thanks for this project. One parent said in Swahili that "there no words to relate our gratitude." I reiterate that we are doing this together and that they should thank themselves.
2:00pm: We have lunch at the school in the same meeting room as the PTA meeting. The cooks Kellen has hired for the week bring lunch to the school. We all feel conflicted about eating knowing that students are not eating. Thankfully, classes are not officially in session and the students are present helping us are also getting lunch.
3:30pm: We leave the school and head for Matema Beach on Lake Nyasa. This is a nice diversion from a day of intense emotions for our students. We were not prepared for a 2 hour bus ride though and did not know that the main road would be washed out (hello Africa).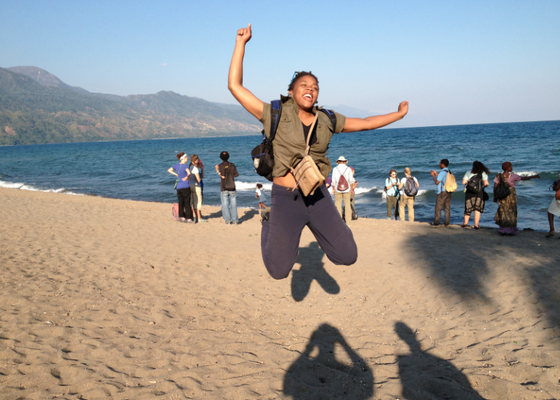 8:30pm: Dinner at our hotel. I keep saying "hotel" but I use that term not in the American sense of "hotel" but in the more broad definition of the fact that there are rooms with water and beds. It is actually very nice and perfect for us. We have spice Pilau chicken, vegetables, and potatoes. The Pilau spice is great.
9:00pm: Daudi facilitates an end of day de-briefing. The students are filled with emotion and thoughts. Daudi gets them all out. For me the day was perfect and one of my best. When I put the pictures in my head months ago what this day would look like with all three teams working at the school, our students with theirs, it was exactly what the day looked like in reality. I will sleep well tonight. Just checked and no toilet snake tonight.
Tuesday, July 3
8:20am: Breakfast at the hotel of Sambusa, Andazi, some fruit and Africafe coffee. Andazi is a Tanzanian doughnut ball. These are home made.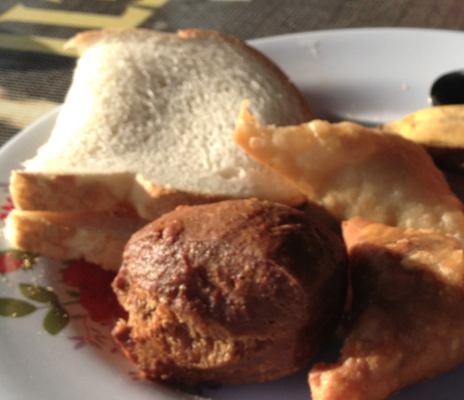 9:30am: We arrive in Tenende (small village about 20 minutes from Kyela and practically next door to Mwaya school). At first I did not recognize Mama Kyeja because she has a new hair style. She is the chairperson of the farmer group we buy beans from -- UWATE. She gives me a formal handshake and then a big hug. She shows me their solar drying area, new fermentation boxes and new storage building.
9:45am: Once we are in the meeting room -- also their storage facility -- we all get settled and begin the formal part of our meeting. We start with our bean analysis and comparison from the last crop sent to us compared to the first. This is not easy because we are disappointed with the last crop in some very specific areas. I hand out bean samples from both crops and begin the detailed explanation. They seem to be understanding. It is all in Swahili and Kellen is by my side translating.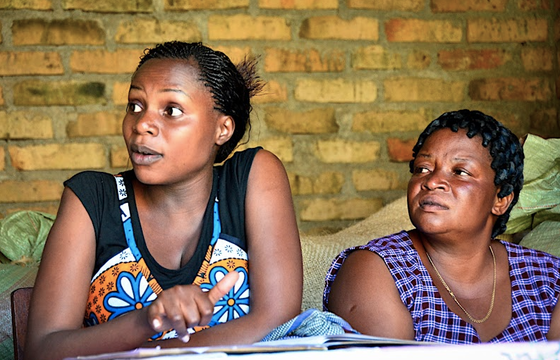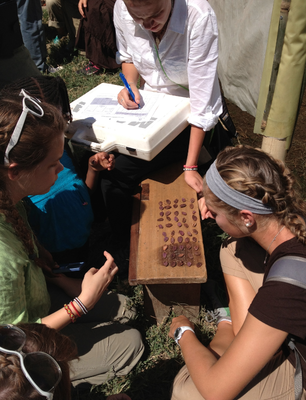 We then gave the farmers a complete chocolate tasting of just about everything we make. This is not easy in the heat but we brought polar packs to keep it cool. They loved tasting chocolate from other parts of the world and said that the Tanzania was their favorite.
10:15am: One of the things we do is open our books to farmers and profit share with them. We brought cash to give to the UWATE farmers. We give them this share and explain how we arrived at the calculation by sharing our financial statement with them. This makes a bigger impact than I thought it would. I share with other groups but it seems to really make a difference today.
11:30am: We start to inspect the cocoa beans for our current crop that we are buying now and that we have already advanced some money for. We break the students into three groups of five each and they perform cut tests on 100 beans in each group. We trained the students how to do this in my factory before we left so they knew what to do. We trained them how we grade beans and these kids did a great job. The results of the cut test are acceptable. The next step is a moisture reading on each bag of beans. My heart sinks; the moisture is too high meaning that by the time they sit on a ship for 45 days in a container they will mold and there is nothing we can do to recover them. I am disappointed because we have really worked on moisture with UWATE for the last two crops. I reject 2/3 of the beans. UWATE is not big enough to supply all of our beans so they also buy beans from neighbors and they will need to replace the beans I have rejected. I am glad this is early in the week as I will come back later and re-inspect for moisture.
3:00pm: It's a long hot ride back to Kyela. I have to admit I am kind of bummed at this development of wet beans. We set up a meeting with UWATE leadership for tonight in Kyela.
6:00pm: Kellen and I meet with the five UWATE leaders including chairwoman Mama Kyeja. I spent a lot of time outlining my disappointment with their beans. This was a long meeting where I had to re-tread old ground of our price and terms negotiations for this year's crop. They agreed that they need a better understanding of basic financial literacy. Kellen and I will help them with this. Trust is increasing between us. We pray before Kellen and I go back to our hotel. They promise to have dry beans for me to inspect before I leave. They implored me not to worry.
Wednesday, July 4
8:00am: Dr. Tom Prater, friend, President of our School Board, and one of our leaders on the trip brought a little bit of home with him. He is now placing small American flags on the straw hut patio where we eat our meals. Happy 4th of July!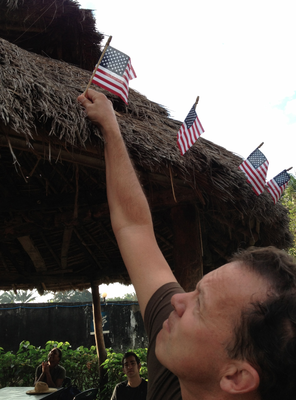 9:30am: We tour the Kyela Hospital. This is an eye-opening experience for our students. A night's stay is $2.50 -- an amount that many cannot afford. Dr. Prater wanted to see the patient wards but did not want all of the students to follow. I went with him and one of our students followed without us knowing he was there. We observe a kind of pain and misery I have not seen in awhile. Our student is overcome with grief almost immediately. I wish he had not seen this. What we both see is a child who is HIV positive in obvious pain, crying, face crinkled, and there is nothing anyone can do. Nothing to address his pain.
10:15am: We are back at Mwaya school working in our teams getting the work completed. Dr. Charles Taylor of Drury University is talking to the local teachers about the Khan Academy videos on each computer -- 3,000 lessons on each laptop -- and how to maximize efficiency of the computers. He is specifically talking to them about the African School of Excellence model. This is critical because the student to teacher ratio here is 100 to 1.
3:30pm: We're at the Morovian Church in Tenende attending a special service that Mama Kyeja arranged for us. She is not only a cocoa farmer but the leader of her church choir. They sing the 23rd Psalm, among others and it's beautiful. They presented us with gifts and asked me to say a few words. I thank them for their hospitality and example of faith. This example -- I tell them -- is something we can learn from them in America.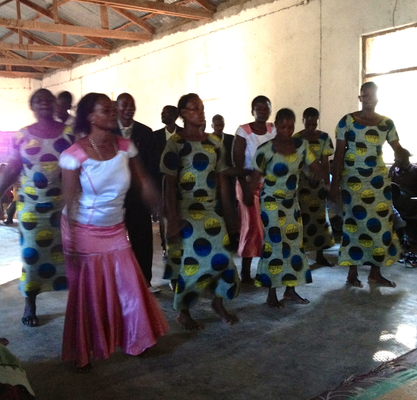 Thursday, July 5
8:00am: For breakfast this morning there is a new addition: chapati pancakes. It's a flatbread that I cant get enough of. Why didn't someone ever tell me about this bread? I cut up bananas, fold it over and wow!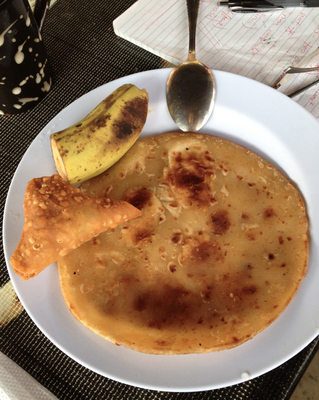 8:20am: This morning Bob Linder, Charles Taylor, Tom Prater and I decide to walk the road to school instead of taking the bus. The roads are really not roads and walking them is a different feeling than riding our coaster. We pass by other walkers, bicyclists, rice farmers in the fields, and spend some time in the dusty wake of cars and trucks.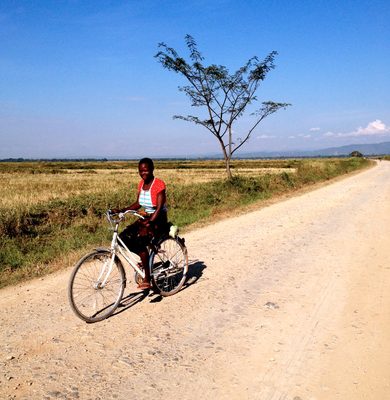 10:00am: The men attended the meeting of the boy's section of Empowered Girls Club at the school which is funded by Chocolate University. The boys are an integral part of the club because their support of the girls is necessary for the success of the club. The idea is to teach the girls about self esteem, sex education, and give them confidence to pursue their dreams. I did not get to hear the girls meeting but am sure it was meaningful. One of the reasons we fund this club is the fact that teen pregnancy is so high here. The reason is that the girls are so hungry that they are willing to trade sex for food. They are forced to drop out of school if pregnant.
3:00pm: We are nearing the end of bagging up 1,000 units of premium Kyela rice but we need more plastic bags. We're only 57 bags short but will have to stop for the day because there no more plastic bags in Kyela and they will have to drive two hours to Mbeya to get more.
Friday, July 6
9:30am: We are at the school and making sure that all of the computers are working in each classroom and that the rice is all bagged up. There is a lot of excitement in the air as the school prepares for the Empowered Girls graduation ceremony that Kellen is putting on. Drummers (called Ngoma here) are getting ready and I start dancing and get the little kids in a conga line.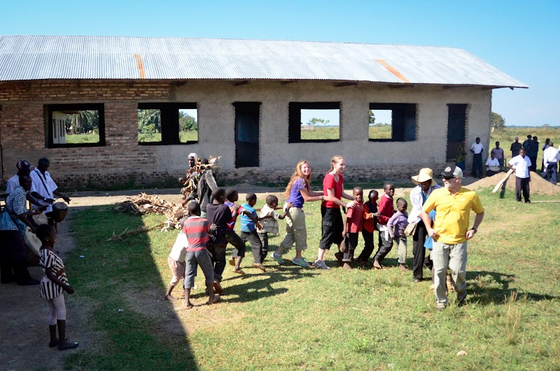 12:20pm: I am the "guest of honor" at the Empowered Girls graduation where 67 girls are being honored at the school. They perform skits, sing songs, dance and receive certificates. I am in awe of Kellen's work. She is from Uganda and met Daudi in Tanzania. I think that she might be part angel or something. There is an aura about her. She imparts that to the young girls she works with. I am happy we are part of this.
2:45pm: Kellen and I head into Tenende village for a final meeting with UWATE farmers. I am checking the moisture on the new beans; they are all perfect. This is better than I had hoped. I am cautiously optimistic that the remaining beans collected over the coming 2 months will be the same quality. Kellen will be back in September to check for us.
9:00pm: After dinner the Headmaster stops by our hotel and has a special gift for me from the PTA. I greet him and notice he is carrying a plastic shopping bag in his left hand. He reaches in and pulls out my gift: a live chicken. This is a very special gift that is intended as a great honor. I think he might have thought I could just "carry it on." I thank him profusely and ask that he keep the chicken for me until I return. We spend a lot of time de-briefing with our students tonight. Daudi has returned to Arusha so it's up to me. There are lots of emotions and changed lives in such a short time. I cant wait to see what these kids become someday. I am already proud of who they are now!
Saturday, July 7
7:00am: I had the sense we should leave early for the Mbeya Aiport. It was a good thing because we have a flat tire on our coaster in Tukuyu about 1 hour out of Mbeya. It is a chance for some last minute shopping for our students in the marketplace.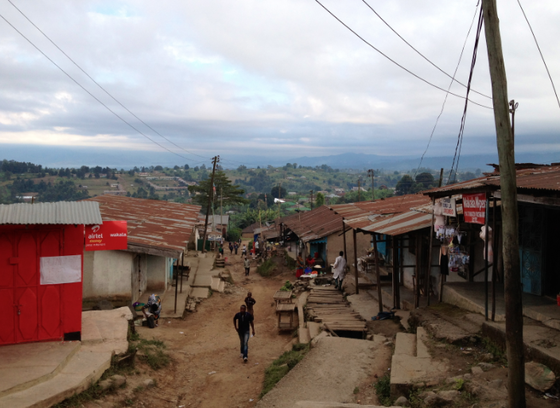 11:20am: We are back on our charter single engine Cessna Caravans. I am in the co-pilots seat for the flight back to Dar. He tells me not to touch anything. This plane is brand new and the avionics have drawn me in for the two hour plus flight. I ask the pilot if he will let me land as we approach the runway. It was the first laugh I got out of him. I wasn't kidding. I don't know how to fly but after watching for a couple of hours...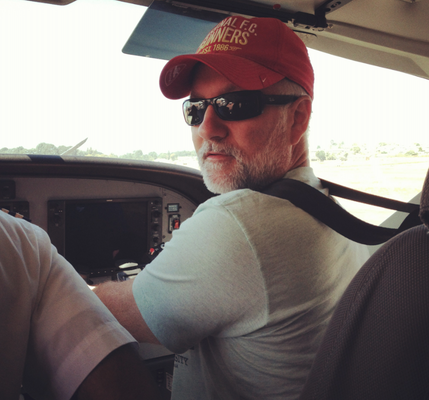 8:10pm: After a few hour layover in Dar and passing through Customs and security we psych ourselves up for a long, long series of flights that wont get us home until Sunday night. Next stop Paris. We'll only be at the airport for 5 hours but I still wish I could speak French.
See previous Food Informants below:
PHOTO GALLERY
Food Informants