Authorities in two states pressed a manhunt today for Nathan Summerfield, the prime suspect in the murder of Ohio mother Lynn Jackenheimer, whose body was recently found in North Carolina.
"We had a couple reported sightings in Columbus last night on the east side and then again this morning, but none of that has been confirmed. We have not come up with any solid leads yet," Capt. Carl Richert, of the Ashland County Sheriff's Department in Ohio, told The Huffington Post.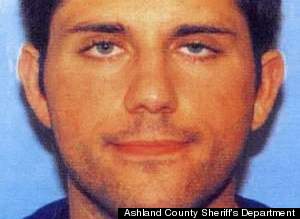 On Monday, the Greenville Medical Examiner's Office in North Carolina positively identified a body found on Hatteras Island as 33-year-old Jackenheimer. A cause of death for the mother of two was determined Tuesday.
"The coroner issued a cause of death by strangulation and stab wounds," Richert said.
Authorities in North Carolina have since issued a murder warrant for Summerfield, described by police as Jackenheimer's 27-year-old estranged boyfriend. Summerfield had previously been named a person of interest in Jackenheimer's disappearance.
Lynn Jackenheimer was last seen alive on July 4, when she traveled to Nags Head, N.C., with Summerfield and the couple's 3-year-old son and her 13-year-old daughter, who has autism. Summerfield returned to Ashland with Jackenheimer's children on Sunday afternoon, but she was not with them.
PHOTOS: (Story Continues Below)
PHOTO GALLERY
Lynn Jackenheimer
Police said Summerfield dropped the children off at a family member's house, and later confessed to his brother that he had killed Jackenheimer. His whereabouts since that time remain a mystery.
"We don't know whether he's alive or dead," Richert said. "He's hiding someplace nobody's found yet."
Summerfield was last seen driving a 2009 dark metallic gray Honda Civic four-door. The Ohio license plate tag is FMV 7540. Summerfield is about 5-foot-11, with brown hair and green eyes. Anyone with information is asked to contact the Dare County Sheriff's Office at 252-475-5980 or the Ashland County Sheriff's Office at 419-289-3911.
This post has been updated to include a Summerfield's description instead of Jackenheimer's.
BEFORE YOU GO
MISSING PERSON CASES:
PHOTO GALLERY
Missing People