She's no Katy Perry or Lady Gaga, but Demi Lovato doesn't mind taking a few fashion risks. After testing out a variety of hair colors and wild updos, it seems Demi has temporarily settled on a rather soft, pale pink color... but rest assured she's wearing some tough outfits to complement it.
Last night the 19-year-old singer and "X Factor" judge donned head-to-toe black for a concert at the Greek Theatre in Los Angeles. Demi paired a high-waisted leather skirt and leather moto jacket with fringes down the arms with a lace bustier, black dotted tights, and chunky Gaga-like shoes (well, Gaga Light). The color-coordination was spot-on, obvi, but the vibe was strange. Is it just us or does Demi look like a cross between Stevie Nicks and Nicki Ninaj?
Speaking of Stevie, the fringes on the jacket arms were perfect for flailing around, which Demi did a lot of. But we're getting hot just looking at her with all that leather piled on... since when is black leather summer-appropriate?
But hey, honorable mention for the neon pink lipstick. Seasonally appropriate, totally awesome.
See the pop star's on-stage style below. Are you a fan of this dark, clunky outfit?
PHOTOS: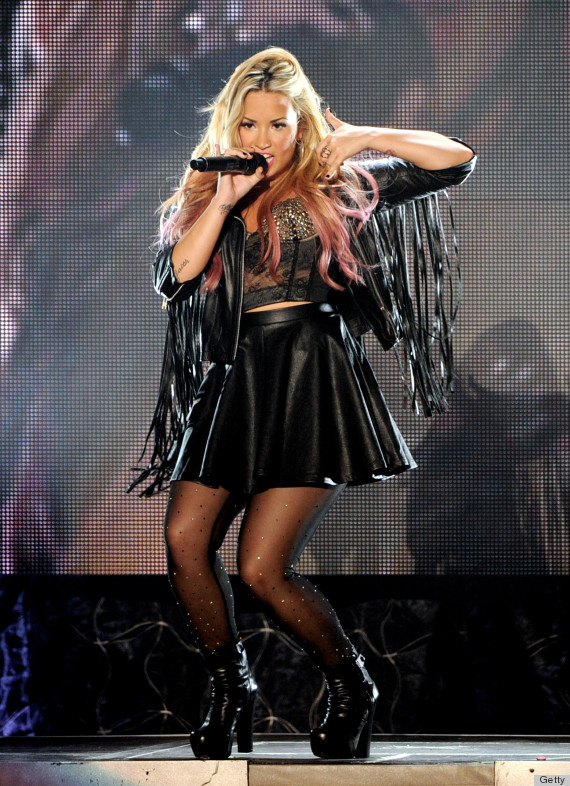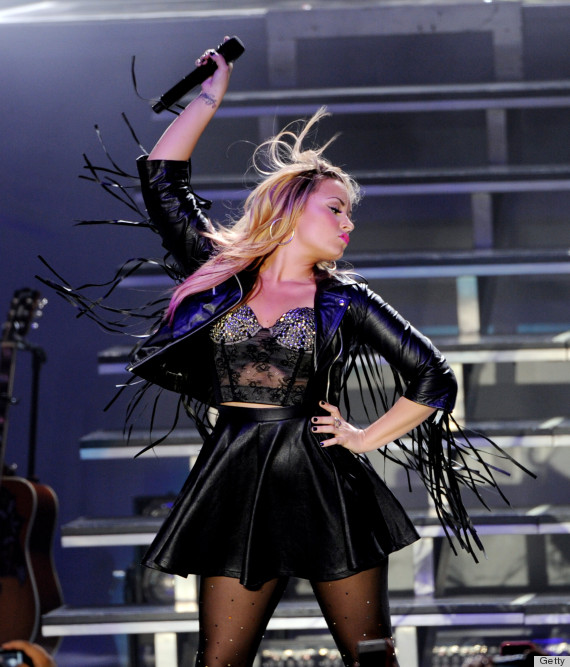 See more celebs who've sported leather in the summer:
Want more? Be sure to check out HuffPost Style on Twitter, Facebook, Tumblr and Pinterest.