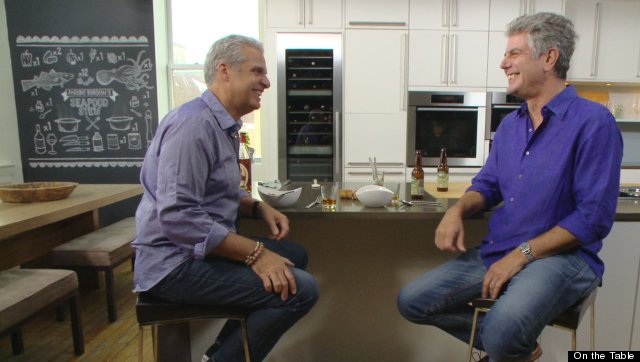 Today, chef, author and television personality Eric Ripert launches a new series, called "On The Table."
This new series, which will run on YouTube's Reserve Channel, focuses on Ripert's closest friends and the dishes they think represent them best. In each episode, a close friend of Ripert's -- some chefs, some not -- will join him in the kitchen to cook, talk, eat and drink. Please, allow us to emphasize: and drink. His first guest will be long-time friend and fellow culinary trouble-maker, Anthony Bourdain.
"On the Table" is filmed in a sun-bathed kitchen that prominently features ingredients drawn on a chalkboard wall, making it feel homey and relaxed.
Chef Ripert told The Huffington Post:
I'm inviting a friend to come and cook. And while he is cooking and we are eating, we are basically interacting and we have a discussion. And I'm learning about them and we're sharing, of course, with our public. "On the Table" is on YouTube because we're targeting a young audience, a fun audience, a smart audience -- and it's all about sharing the fun.
The idea being that the history between Eric and his guest, the familiar act of cooking together and the many bottles of wine consumed during filming will help the conversation flow easily. It should be as if you are sitting in the kitchen with old friends as well. The hardest part, Ripert told us, is reading scripted lines in English. "Yeah, I sweat. We could be in a hot kitchen and I'm okay, but... thank God my guest was here. He said my lines, actually, today. You know, he speaks English."
As Bourdain mentioned in the episode trailer, "Eric calls up and says, 'let's play,' I play. There are certain people in your life who call you up at four o'clock in the morning and say, 'Meet me on the corner of Avenue D and Fourth Street and bring a handgun and a stolen car... a tarpaulin and some duct tape.' You don't ask why, you just go."
See whether or not Bourdain actually brought those things with him in the full first episode below.