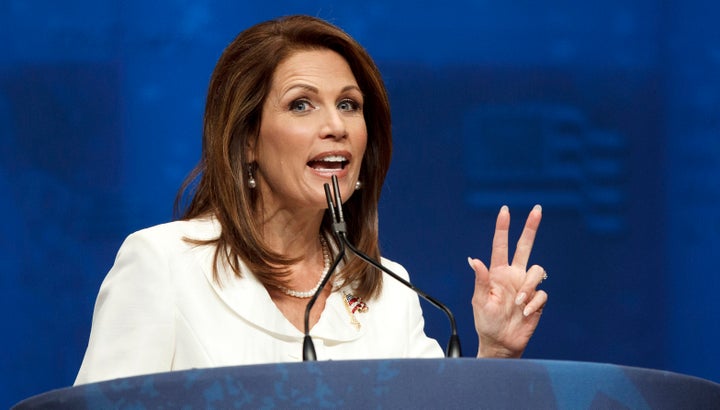 Rep. Michele Bachmann (R-Minn.) on Thursday declined to answer Republican critics of her allegations about the Muslim Brotherhood infiltrating America and refused to back down, even after condemnation from House Speaker John Boehner (R-Ohio).
Bachmann and four GOP colleagues in June sent letters to inspectors general in five government agencies complaining of potential infiltration. At the State Department, she accused a longtime aide to Secretary of State Hillary Clinton, Huma Abedin, of being affiliated with the Islamic terrorist organization.
Sen. John McCain (R-Ariz.) catapulted the conspiracy theory into the headlines Wednesday when he ripped the lawmakers' crusade against Abedin in a Senate floor speech. Other GOP leaders piled on Thursday, including Boehner and Bachmann's former campaign manager, Ed Rollins.

Bachmann, leaving her office surrounded by a half-dozen staffers Thursday afternoon, appeared unfazed by the criticism and refused to answer questions. "There's no comment, there's no comment," she said before spokesman Dan Kotman stepped in.
"The statement still stands," Kotman repeated several times, referring to a unapologetic declaration that Bachmann's office issued shortly after McCain's tirade.
Bachmann on Thursday doubled down on her Muslim Brotherhood claims in a news release headlined, "Obama's Friends Are America's Enemies."

The statement criticized Obama for inviting a U.S. meeting with newly elected Egyptian President Mohamed Morsi, a member of the Muslim Brotherhood before winning the election. The White House has said there are no one-on-one meetings planned between the two, although both are expected at United Nations events in September.
BEFORE YOU GO
PHOTO GALLERY
Unforgettable Bachmann Moments