On July 19, 1957 -- 55 years ago on Thursday -- five men volunteered to be filmed while a nuclear weapon was detonated above their heads in the Nevada sky.
One man who didn't volunteer, but was there nevertheless, was George Yoshitake, a Department of Defense (DOD) photographer who filmed the event.
"I thought it was just another job to do," Yoshitake, 83, who at the time was a civilian employee of DOD's Lookout Mountain Laboratory, recalled this week in an interview with The Huffington Post.
Yoshitake had filmed other nuclear tests in the Pacific, but always from a distance, he said. So when he found out about this assignment the night before the test, which CBS News reports was the only test of its kind ever conducted, he asked what protective gear he'd be given.
"They said 'none,'" he recalled. "I had a baseball hat and I put that on just in case."
The video of the test opens with the five Air Force officers huddled together, looking up as two F-89 Scorpion fighter jets approach in the sky above them. Staked in the ground next to the men is a sign -- which Yoshitake said he made -- that reads, "Ground Zero: Population 5."
When the countdown reaches zero, one of the jets releases a missile tipped with a nuclear warhead.
"We felt a heat pulse," a narrator says. "A very bright light -- a fireball. It is red. The sky looks black about it. It is boiling above us..."
After a delay, the sound wave reaches the men. The narrator, presumably after realizing he's still alive, becomes ecstatic.
"It is tremendous..." he shouts. "It worked! It worked! Aha! So good. It is a huge fireball. The mounds are still echoing through here. Wasn't that a perfect, perfect shot?"
"They all congratulated each other that they were still alive," Yoshitake recalled. "I remember one of the guys even pulled out cigars and passed them out."
According to documents from the Natural Resources Defense Council unearthed by NPR, the roughly 2-kiloton warhead detonated at an altitude of 18,500 feet. CBS News reported that the warhead was about one-eighth the size of the bomb dropped on Hiroshima.
It wasn't until after the test that Yoshitake found out he was making a propaganda film meant to demonstrate the safety of nuclear explosions.
"It was a publicity stunt to show the American public how safe it was during an atomic bomb," Yoshitake told CBS, "and if there was a war or something, with atomic bombs going off, that it was going to be safe for the general public."
In a 2006 article in the Lompoc Record, author John McReynolds reported that film clips and photographs from the test were shown around the world, and three photos from the test were printed in Life magazine.
According to the video's YouTube description, the other men at the test were Colonel Sidney Bruce, Lt. Colonel Frank P. Ball, Major Norman "Bodie" Bodinger, Major John Hughes and Don Luttrell.
Yoshitake said that of the six who were there that day, only he and Luttrell are still alive.
All of them were diagnosed with cancer at one time or another, CBS reports, although Yoshitake said that after chemotherapy and surgery last year for stomach cancer, he's now healthy.
Yoshitake said he knows a lot of cameramen who filmed nuclear tests died of cancer, adding that he's not certain it was related to the blasts.
As the film comes to a close, one of the men excitedly described the event:
"Folks, it was just a wonderful thrill to see that interceptor come in, that rocket go at the zero count," he says. "This thing went off with a white flash. It was just beautiful."
LOOK: Don Luttrell, left, with George Yoshitake in Dallas, Texas, in April 2012.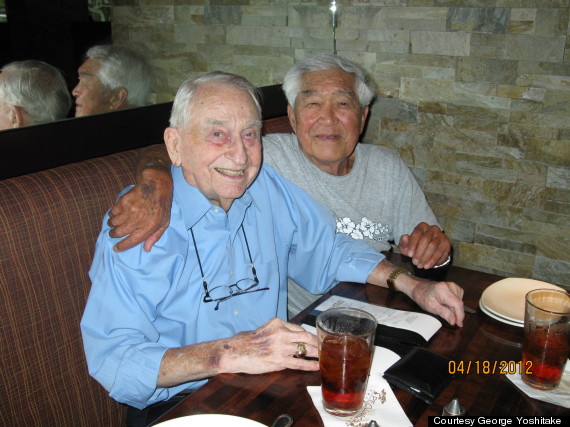 WATCH: CBS report on nuclear test:
BEFORE YOU GO