When you're the "world's hottest swimsuit model" like Jessica Gomes, hanging out in a bikini is pretty much par for the course, wardrobe wise. Her bikini is our jeans.
So when the model headed south to make an appearance at Mercedes Benz Miami Beach Swim Week, she obviously took some time off and hit the beach, stripping down to nearly nothing to catch some rays.
Maxim readers voted Jessica, 27, the "world's hottest swimsuit model" back in 2011, and by the looks of things, she's still wearing that black bikini like a boss. The Australian beauty also channeled Miley Cyrus (with her flannel coverup) and Marc Jacobs (with her Chanel bag toted along to the shore).
In her Maxim interview, Gomes revealed that she wasn't always happy with her 36D breasts: "I'm very skinny on the bottom, but then I have these big boobs. When my body started changing I would go to castings and and call my agent, very upset, saying, 'My boobs are growing, and they're not fitting into the sample-size tops!' But I was very lucky that, as I was becoming a mature woman, other people were digging it, and I was able to be a swimsuit model."
Jess may have a hot bod that she often bares in the likes of Sports Illustrated, but she also models with her clothes on: she's appeared in Vogue, Teen Vogue, Glamour and GQ.
Ready? Check out Gomes and her sexy bikini look below, and scroll down for more celebs flaunting it on the beach.
PHOTOS: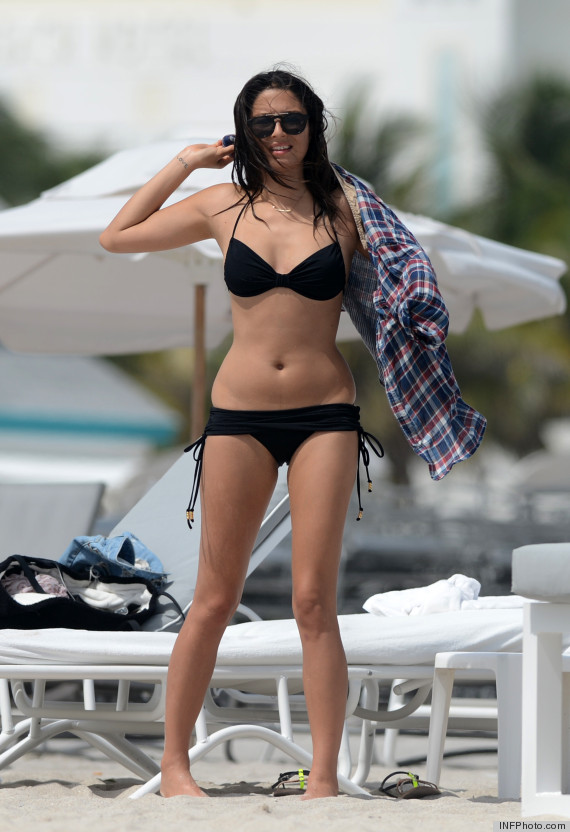 Want more? Be sure to check out HuffPost Style on Twitter, Facebook, Tumblr and Pinterest.