Andy Samberg may not be returning to "Saturday Night Live" this fall, but in the latest issue of Playboy he offers some interesting tidbits about his time on the show.
In the July/August issue's "20Q" feature (on newsstands now), the "Celeste And Jesse Forever" star talks about creating Natalie Portman's Digital Short, his friendships with Adam Sandler and Justin Timberlake, and his favorite "SNL" kiss.
"Scarlett [Johansson] was my favorite because it was funny and gross," Samberg said about their on-stage kiss, where both actors played Kuato from 'Total Recall.' "It wasn't so much a kiss as licking each other's tongues. It was a kiss the audience definitely didn't want to see happen."
Samberg's experience working with Natalie Portman on "SNL" was hardly less tame. When "Natalie's Rap" came out, everyone was blown away by how hardcore the young actress came off, but Samberg says that she actually loves "filthy rap" and that the sketch was entirely her idea:
"We were skeptical because [...] she seems so sweet and innocent," Samberg said. "And then she broke into some Lil' Kim song and started rapping verses for us, the filthiest lines I've ever heard. We were completely taken aback."
Samberg also revealed that he and his famous Digital Short partner, Justin Timberlake, aren't nearly as chummy as their
"D*ck In A Box" characters. However, the bond created by the popularity of their videos is something that he thinks will stay with them forever.
"I consider Justin a friend, but those guys are inseparable," Samberg said. "The funny thing is, Justin and I have become inextricably linked because of those videos. We've come to terms with the fact that in every interview we ever do for the rest of our lives we're going to get asked about 'D*ck in a Box'."
Now that he's done with making Digital Shorts, Samberg has collaborated with fellow "SNL" alum Adam Sandler on two features: this summer's "That's My Boy" and the upcoming animated film "Hotel Transylvania." According to Samberg, once you become part of Sandler's stable of actors, he takes a personal interest in making sure you keep working with him.
"I literally found out about ["Hotel Transylvania"] by getting a phone call from him," Samberg said. "He said [in an Adam Sandler voice], 'We're doing a movie about monsters, and you're gonna be the guy.' And I said, 'Okay, sure.'"
Read Samberg's full interview in the latest issue of Playboy or on the Playboy website and check out the accompanying photo courtesy of F. Scott Schafer below: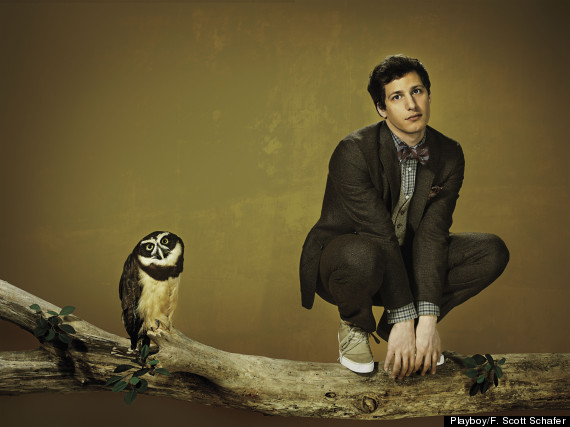 BEFORE YOU GO
PHOTO GALLERY
Best Of Andy Samberg