The tragic shootings in Aurora, Colo., on July 20 have already been memorialized in several ways: charitable funds, a visit from President Obama and other outpourings of human compassion. Tribute apparel has also popped up online in the form of memorial t-shirts and jewelry, with portions of proceeds being donated.
But for the frisky girl, there's another way to show your support for the victims: a black ribbon-emblazoned thong.
The Cut spotted this charitable underwear on Cafe Press, a website that allows users to create customized apparel and gifts by uploading an image or logo.
Someone who wanted to create some custom memorial gear for the tragedy has done just that -- including a special cotton thong marked with a black ribbon, "Aurora" and "7-20-12." (It's selling for $12.50, FYI.) The caption proclaims, "Panty-minimalists love our casual thong that covers sweet spots without covering your assets; putting an end to panty-lines. This under-goodie is 'outta sight' in low-rise pants."
Oof. Now, we've used CafePress before, to order t-shirts for a sorority function in college, and we remember that once we uploaded our sorority logo to the website, it automatically populated a wide range of clothing items with the image -- including underwear. (We also spotted an Aurora memorial iPad cover.) So, it's possible that the person behind the Aurora apparel didn't intend to let a memorial thong be sold.
UPDATE: CafePress removed the thong from the website on Monday afternoon and released the following statement:
CafePress is saddened by the tragedy in Aurora and our hearts go out to the victims and their families.

As you may know, CafePress is a marketplace of merchandise designed by its users. Every day users upload an average 20,000 designs with topics ranging from political to humor to social commentary and everything in between. We believe this design was created by a user with the best of intentions, meant for a t-shirt or other similar product, in support of the victims. Unfortunately, at times, when uploading images users may inadvertently click the "add to all products" button when they upload a design. In most cases this is fine, but as you can see, this design may have a different meaning when presented on a t-shirt than it does on other items. In this instance, CafePress has taken action and removed the design from inappropriate products.

We hope that clears up any confusion about our service.
PHOTO: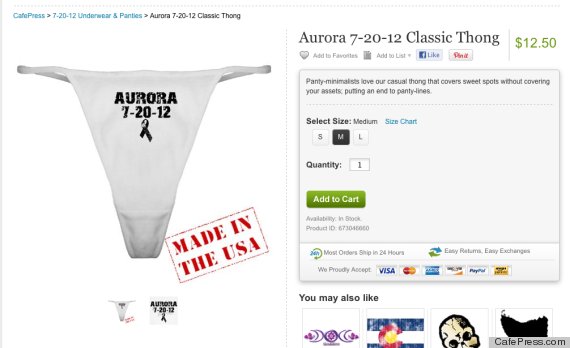 Want more? Be sure to check out HuffPost Style on Twitter, Facebook, Tumblr and Pinterest.
BEFORE YOU GO