Thousands of people gathered for a vigil on Sunday in Aurora to remember the 12 theater-goers who were killed and the 58 others who were wounded by a lone gunman who opened fire on the audience of a midnight showing of the "Dark Knight Rises" at the Century 16 movie theater just last Friday.
(SCROLL DOWN FOR PICTURE)
After a vigil held near the Aurora movie theater, Crystal Fuller snapped a photo of some clouds gathered above the theater that she believes looks like an angel. Fuller wrote on Facebook:
I took this picture last night after I left the vigil....Looks like an Angel in the clouds above Century 16. Touching!
Crystal posted the photo on the 7News Facebook page and the picture had already garnered hundreds of comments and more than 1,000 shares.
7News reports that Fuller took the photo the night of the vigil, but didn't notice the shape of the clouds resembled an angel until a friend pointed it out to her.
If you are interested in supporting victims and families of the Aurora movie theater shooting, visit GivingFirst.org.
LOOK: Photo of clouds above theater, what do you think?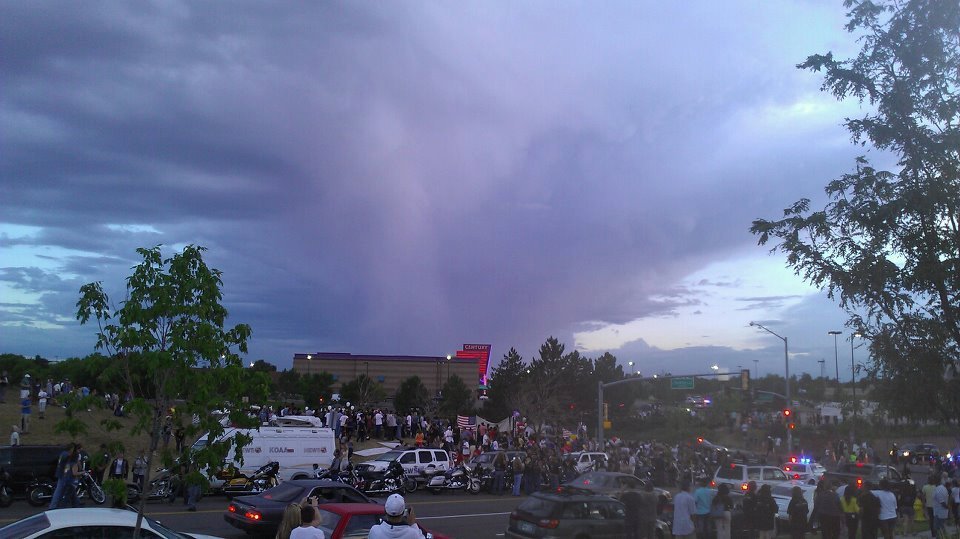 BEFORE YOU GO
PHOTO GALLERY
Photos From The Aurora Theater Shooting