I look forward to Sunday afternoon phone conversations with my Grandmother Annie Ruth. While I try to get her to reveal her beauty secrets, somehow the conversation always turns to the unbearable South Carolina summers. But how could I blame her, especially with the temperature reaching 100 degrees before noon. And she's not the only one feeling the heat.
Sarah of Chalkboard Nails celebrated her blog's one year anniversary with this blazing nail design. Incorporating the popular gradient effect she discovered on The Nailasaurus, she turned thing up a notch by adding red and yellow glitter nail polish to mimic the solar winds and waves. Follow the five steps below to recreate this summer mani.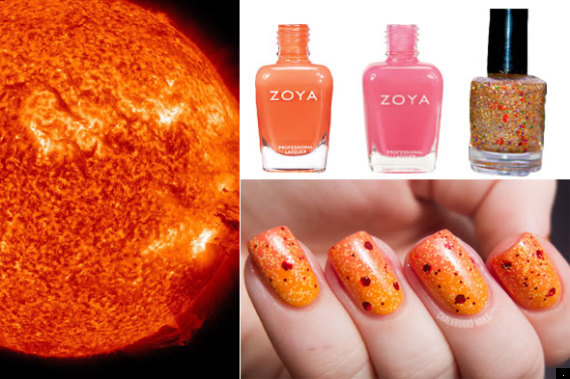 Photos: Surface of the sun, Getty Images: Zoya Arizona and Lo; Olympic Flare glitter polish; Chalkboard Nails' surface of the sun DIY nail art.
1. Apply one coat of Zoya Arizona (a creamy orange) onto nails as a base and allow to dry.
2. Pour Zoya Arizona and Lo (a warm pink) right next to each other on a paper plate. Use a toothpick to swirl the two shades together, then take a small sponge and dip into the mixture.
3. Starting at the tip of your nails, lightly dab the sponge down towards the cuticle. Repeat on all fingers until you achieve your desired gradient effect.
4. Add one coat of red and yellow glitter nail polish for the flaming finish.
5. Use a Q-tip or small brush dipped in acetone to clean up cuticle area and seal nail art with a shiny top coat.
What do you think about this surface of the sun-inspired manicure? Would you wear it?
Meanwhile, is toe nail art the new frontier?
Click through the slideshow below for more DIY nail art.
Want more? Be sure to check out Stylelist on Twitter, Facebook, Tumblr and Pinterest.
PHOTO GALLERY
DIY Nail Art
BEFORE YOU GO