As far as jeans trends go, "double denim" is one of our favorites. Luckily the previously mocked style, memorably botched by Britney Spears and Justin Timberlake in 2001, has literally come back in vogue with endorsements from Vogue UK, Vogue Paris and Vogue Australia (and plenty of celebs).
The Canadian tuxedo just got a serious vote of confidence from Vogue Mexico, which dressed model Kasia Struss in a denim jacket with coordinating pants for its August issue. The bright cover, which splashes all its jean goodness against a clean white background, is like a double denim declaration.
But the problem with double denim, you see, is it must be done right... or it can go very, very wrong. Three issues we see with this version of the denim suit:
1. The denim top and bottom are exactly the same color, rather than a chic contrast between dark denim and light.
2. The color of the denim, neither dark-washed nor ironically bleached, is unfashionably dated (see: whiskers on the thighs).
3. Three words: crystal chain belt.
In short, this is the kind of double denim we could see Christina Aguilera circa "Genie in a Bottle" wearing on an album cover. And that's not a good thing.
Check out Vogue Mexico's August 2012 cover below. Are you digging this bold outfit?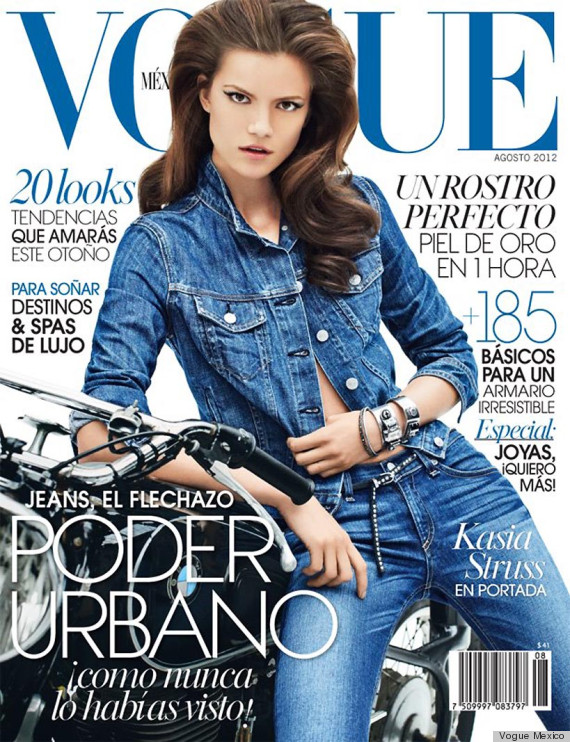 See more celebs who've dared to don a Canadian tux...
Want more? Be sure to check out HuffPost Style on Twitter, Facebook, Tumblr and Pinterest.