One South Florida 911 dispatcher received what very well may have been the strangest call of his or her career this week.
Tuesday morning, a 900-pound Yorkshire pig named Strawberry fell into a pond behind a home at Southwest Ranches, a semi-rural Broward community on the edge of the Florida Everglades.
Neighbors came to the rescue, jumping in to hold the two-and-half-year-old swine's thick head above water, NBC reports, until Fire and Rescue arrived with the necessary tools to hoist the massive beast out of the pond.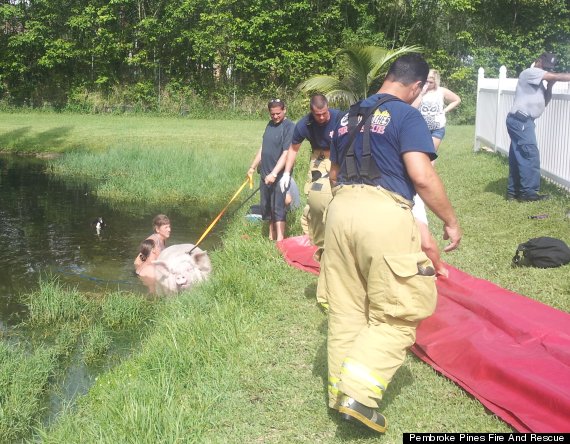 Firefighters used a ladder and large tarp to pull Strawberry from the water, which was only 5 feet deep, according to CBS Miami.

They also assisted the owners is getting the rotund pig into a trailer for her trip to her new home in Wakulla, Fla.
According to the Sun Sentinel, Strawberry was not always so popular with the neighbors.
In 2009, neighbors called code enforcement on the Falk family to complain about the then two-month-old pig's odor. The town insisted the family get rid of their pet or face fines.
A year later, however, the town council voted 5-0 to overturn a local ordinance that prohibited keeping swine as pets -- expect for Vietnamese potbellied pigs -- in Southwest Ranches.
Tuesday's rescue was the third time in two months that South Floridians have rallied together to save the life of an animal in need.
Earlier this month, a Miami man stopped at a drawbridge attempted to stop a small dog from falling off the opening bridge. When the pup fell, the man returned to the scene the next morning and found the terrier trapped in a tunnel under the bridge.
In June, Sunny Isles beachgoers assisted an ailing hammerhead shark by towing it on the back of a boggie board back into deeper water.
BEFORE YOU GO