Some Photoshop fails can be explained. (See: that time we made our elbow disappear.) Others are harder to decipher, such as this recent vanishing knee situation courtesy of Banana Republic.
If you received Banana Republic's email newsletter in your inbox today, as Photoshop Disasters did, you would have found two attractive brunette models, a man dressed in a khakis and a navy sport jacket and a woman sporting a white lace top and a pleated orange skirt.
Both models are picture perfect, save for the woman's tree trunk of a leg. Something about it looks strangely elongated, oddly shapeless and utterly... knee-less.
Like many major retailers, it's not Banana's first time at the airbrushing rodeo -- there was that mysterious lump that popped up on a male model's pant leg that got zapped away, and a random gray box placed above a female model's head. But the vanishing kneecaps had been Forever 21's beat (whereas Victoria's Secret specializes in thighs and LOFT focuses on hands). Looks like Banana is stepping on another retailer's Photoshop territory.
Check out the photo below, care of Photoshop Disasters. Do you think this is an airbrushing fail?
PHOTO: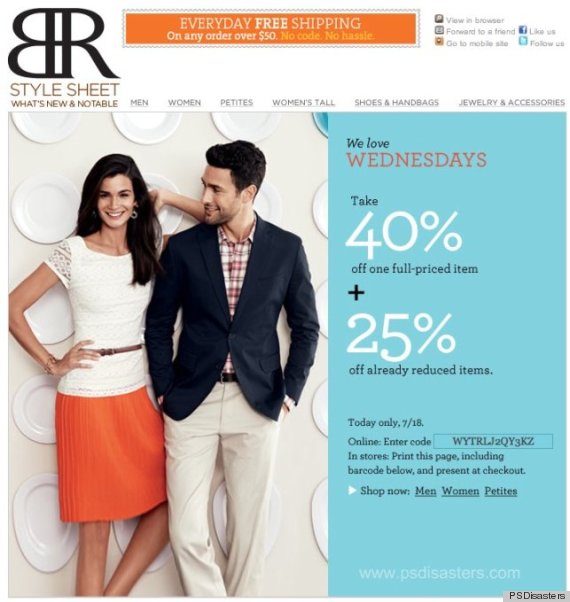 See more failures of airbrushing...
PHOTO GALLERY
When Photoshop Goes Wrong...
Want more? Be sure to check out HuffPost Style on Twitter, Facebook, Tumblr and Pinterest.