Food Informants is a week-in-the-life series profiling fascinating people in the food world. We hope it will give you a first-hand look at the many different corners of the food industry. Know someone who would make a great Food Informant? Tell us why.
Ashley Archer has 10 years of restaurant experience including three years at Prune in New York City. She was a Senior Culinary Producer at Food Network, where she worked on shows including Iron Chef America, Next Iron Chef, Tyler's Ultimate, Guy's Big Bite and more. She was also a food stylist for Emeril Live, Essence of Emeril, Next Food Network Star, Rachael Ray and more. Now, she's the Culinary Producer at The Chew and the co-editor of the new Chew cookbook, which debuts September 25. Archer lives in Washington Heights with her husband and two-year-old daughter.
Read more to learn about just how much goes into prepping the cooking segments for The Chew (it's A LOT!).
Monday, July 9
4:50am: I've overslept. I'm usually up by 4:30 but today is The Chew's first day back from a weeklong vacation and I'm out of practice.
5:30am: I don't eat breakfast, I have a hard time eating so early and I taste all of the food on the show so I need to save room. I give my sleeping two-year-old a kiss goodbye and race out the door. I'm pretty late so I have to take a cab.
6:00am: Walk into The Chew studio and straight back to the kitchen to meet my team to answer questions about today's Grilling show. We go over Michael and Mario's opening dish, then the three viewer BBQ recipes, the light and healthy grilled swordfish with tomato and arugula salad, and Clinton's BBQ inspired cocktail. I taste some calf's liver and eat a chicken wing. Then Hugh, the assistant culinary producer, and I start setting up the show while the stylists work on the beauties.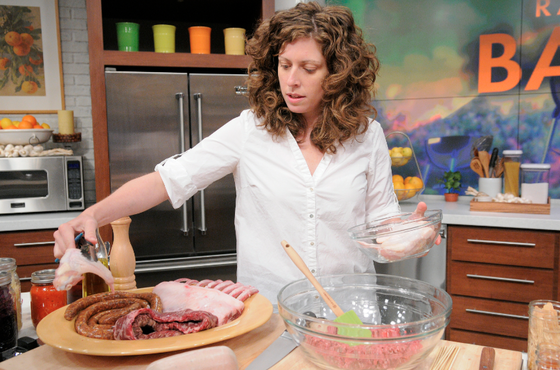 7:15am: I have my morning producers' meeting with the hosts, this takes about half an hour. We go over the show and discuss the food and today's topics. Then on to rehearsal where I go over each recipe with the host who is leading the segment and hope that there are not too many changes. Today I got off easy, Michael and Mario's Mixed Grill: Lamb chops, sausage, chicken wings, and calves liver with red pepper puree and pickled ginger, had almost no changes. Michael wanted to marinate the liver in mint, orange, and red wine vinegar before he grilled it and we had all of those things in house...Whew.
8:45am: The show starts in 15 minutes and the stand-up comedian is warming up the audience so now I start to get butterflies. We've shot over 200 shows and I still get nervous right before we go. I check the grill to make sure it's hot. I make sure that the producers have the recipe changes so that they can make changes to graphics and the costs per serving and the script. Then I check with the kitchen to make sure that all of the swapouts are hot and that there are no final questions. Finally, I check the grill to make sure it's hot, again. I'm a checker.
9:00am - 10:00am: Show goes off without a hitch, and now, I'm starving! We shoot an extra segment for TheChew.com called "Last Bites" where the hosts chat about topics that we didn't get to during the show so that gives me a second to eat something. I head back to the kitchen and make myself a piece of grilled bread with avocado and some lamb sausage out of some of the leftovers from the show. I can see a PA waiting to talk to me about recipe changes for the web, so I only get to take a few bites and then I have to put it aside for later, knowing I will never get back to it.
10:20am: "Last Bites" is over so I run upstairs to the dressing rooms and try to catch the hosts before they leave so we can go over tomorrow's shows. Mario has already left the building but I catch him outside as he's getting on his Vespa. Now I race back to the office so that I can make it back in time for the rundown meeting for tomorrow's two shows.
11:00am: Pop into the senior producers' offices to discuss what food we are thinking about making and make sure that the dishes work with the show theme. We are good to go so I head back to my office where I find a line of people waiting. I joke that I need one of those ticket machines..."now serving 201." No one laughs.
12:00pm: Rundown meeting goes well; we move some things around in the shows but no major changes. I check the recipes from today's show on the website and make sure that the changes I made are accurate. They are.
2:30pm: I get a call from the kitchen, they are having some trouble with Blueberry Whoopie pies for tomorrow's morning show, something about the blueberry to buttercream ratio in the filling. It's runny so we go back and forth as to whether it should be a mascarpone or a marshmallow mixture instead. We went with the mascarpone filling. They were delicious. I don't have a sweet tooth but I ate three anyway.
4:30pm: My husband texts me pictures of our daughter whisking flour in her mini sauté pan with her toy whisk and measuring spoons. I'm pretty sure she's the cutest child on the planet.
5:30pm: Starting to wrap up the day and should be out by six but probably 6:30. Just need to send the hosts their recipes for tomorrow's show so that they can make any changes before tomorrow morning if they want or need to.
7:15pm: Spend a few minutes at the playground by my apartment with my daughter. Then we walk back to the house. I give her a bath while my husband takes a few minutes to relax. She really hates the bath these days so it's quick.
8:00pm: My daughter and I read a few books in my bed and relax and then my husband takes her to her room to put her down. I can't do it because I'm too much of a pushover when she asks me to stay and I'll end up sleeping in her bed with her. He can get her down in minutes.
8:45pm: I eat a tortilla that I have charred on the burner of my stove with sliced avocado, some lime juice, and some salt. Then I plop down on the couch and my husband brings me a glass of white wine and we hang out for exactly half an hour.

Tuesday, July 10
5:30am: I'm not late but I take a cab anyway because yesterday was so easy. I listen to "This American Life" on the way to work. It takes my mind off my day. It's also really good.
6:00am: I have my morning meeting with the Culinary Team and everything seems to be under control as usual. They are prepping Michael Symon's Grilled Chicken with Ratatouille, Daphne's Blueberry Whoopie Pies, Mario's Monster Grilled shrimp, and a TEN hour brisket with Potato salad from Richard Blais our guest chef. Martha, one of the stylists, had to prep the brisket yesterday at work and then take it home to cook it in her oven overnight. I love my team. They are the best.
7:00am: My executive producer Gordon Elliott and co-ep Mark Schneider approach me and casually mention that they are thinking about putting my team on air. Then Mark pulls me aside and says " when it happens it will be quick." I smile and say "sure no problem," walk away and proceed to panic, secretly. I prefer to stay behind the scenes. I already have the food stylists doing cooking demos on the web so I figure we can just put one of them into the show and everybody's happy.
7:15am: Talent meeting and rehearsal. We decide to put all of the hosts at a big dining table at the end of the show so that they can eat a family style meal with all of the food from the entire show. This means we don't have enough food and I have to send the shopper to the store so that we can cook more of all of the dishes before 9:00am. Luckily we have enough brisket. Needless to say my team is in the weeds.
8:30am: Richard Blais arrives to look over his food and discuss the segment. I am a little worried because if it's not right there is nothing we can do about it since his dish cooks for ten hours. He adds a little salt and says it's perfect.
8:55am: The show is all set and it looks like the kitchen is going to get all of the food made in time for the last segment. Smith, our stage manager, starts to count down from 30, the music starts, the audience is excited, I'm stressed.
10:00am: We are setting up for our "Last Bites" segment and I send Jackie, another stylist, out on set to ask Mario what kind of olive he wants in his dish for the second show. I hear Smith start counting down and I see Mario holding Jackie's hand as she tries to flee the scene. Cameras roll and Jackie is still on set. Then I hear Carla say "Where's Ashley?" Then I hear Mario, then Michael, and then I start to back away as Gordon begins to look for me. Before I know it Gordon has me and is literally, pushing me out on to the set. In seconds I am standing out in front of the live audience and am, clearly, expected to say something. I try not to vomit. Mario decides on Kalamata olives.
11:00am: I'm still a little shaky but I manage to shove some of Michael's chicken with ratatouille into a pint container and eat it while setting up the second show. It's really good. Round two: Clinton's eggplant rolatini, Mario's pork roll-ups with mustard-jalapeno dressing and bbq dipping sauce with special guest John Leguizamo, Michael's Pasta Caprese and Daphne's Drunken Fruit Salad. I have 30 minutes to set all of this up.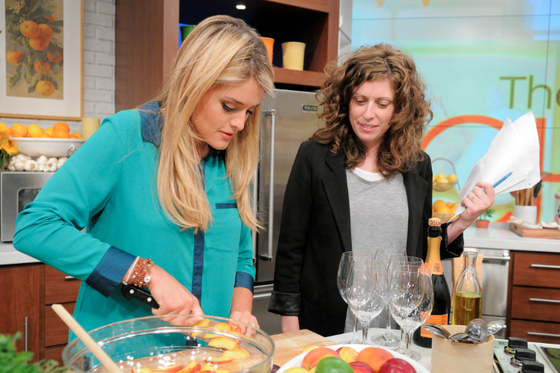 11:30am: I have to leave Hugh to set up what I couldn't get to so that I can go up to my afternoon producers' meeting. The second meeting is always short because the show starts at around noon. We quickly run through everything, I am teased a little for my grace in front of the camera, and then we rehearse.
1:00pm: John Leguizamo was a great guest, really funny and so nice. He ended up staying for an extra segment, which was awesome. I pack up some of Clinton's eggplant to take back to the office for lunch.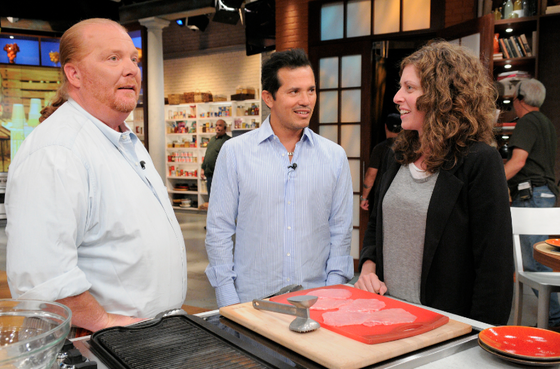 2:30pm: Rundown meeting.
3:00pm: Meet with a separate producing team do discuss food needs for a Chew Special we are shooting next week. They need a lot more than I thought. I'm going to have to hire some freelancers.
3:45pm: I call my husband to check in and I get to talk to Eleanor for about 6 minutes before she presses every button on the phone and hangs up on me.
4:00pm: Go over food costs from last week and put together purchasing orders for new plates and platters for set. I forgot to eat the eggplant but it's in the fridge, I'll eat it tomorrow.
6:00pm: Tomorrow's show only has two cooking segments so I am out of here!
7:00pm: Make it home in time for dinner. I make pasta with zucchini, tomatoes, and pine nuts and we all eat together.
8:00pm: Bath, stories, and bed for Eleanor.
8:30pm-9:30pm: Couch, shower, and bed for me.
Wednesday, July 11
5:00am: My daughter wakes up and wants to build a house with blocks. I call work and say I am going to be a few minutes late, let my husband sleep a little longer, and we build. It's great.
5:50am: Cab again but I promise myself I'll take the train tomorrow.
6:15am: I meet with the kitchen. We only have two cooking segments today and that never happens. Mario is making Caprese sandwiches on a surfboard, and our guest, Gina Neely, is making Texas Caviar with Pita chips. We have a taped piece about a lobster restaurant on the water but all we need to have for that are a couple of cooked lobsters. We are in such good shape that Kevin, another stylist (there are three), makes eggs and we all eat breakfast.
6:45am: The show is totally set up and I have time to go over tomorrow's shows with the hosts so that I don't have to chase them down after. This puts me ahead.
7:15am: Meeting and rehearsal. No changes.
8:30am: Walk through with Gina Neely, no changes.
8:45am: Gordon wants a tip for getting lobster meat out of the shell for when we come back to the studio out of the taped piece in segment 4. I do some research and find that you can use a rolling pin to get the meat out of the legs. I suggest we use a beer bottle.
8:50am: Gordon sends audio over to me to get me set up with a mike and then tells me to go to hair and make-up. I'm doing the Lobster demo.
9:00am: Show starts, I tell Jackie that she's coming out with me and we practice the tip to make sure that it actually works. I'm stressed. I try not to pass out.
9:27am: Segment 4, Mario calls us out onto set and we do the tip. It works. I feel like we've been out there for two hours, it's been 30 seconds. I need a drink.
10:45am: Step outside for a quick minute just to catch my breath and see Michael Symon standing in the next doorway. He gives me a hug. He jokes that he couldn't make eye contact with me during the lobster segment because he was afraid he would start laughing. I punch him in the shoulder. He laughs.
11:00am: Head back to the office to prep the last two shows for the week. Pick up a beet salad to eat for lunch and realize I still have Clinton's eggplant in the fridge, yes!
12:00pm: Rundown meeting has some changes. We are adding some food so tomorrow will be a big day.
1:00pm: Shut my door and watch today's show with Hugh and Kevin. I'm terrified.
1:45pm: My segment was fine, you can't really mess that much up in 30 seconds. Plus, there's only a couple million people watching, so there isn't much to worry about, really.
2:00pm: I hire a couple of freelancers for the Special. Mario needs a freelancer for a side project so I make some calls but I am having a hard time finding someone. Then I read the Dining section of the New York Times.
3:00pm: I go over the show grid for next week with senior producers. We discuss the guests and the show themes, I pitch some ides and then head back to my office. I email all of the hosts their cooking segments for the week and suggest some dishes.
4:00pm- 6:00pm: I go over some stepouts with producers. Stepouts explain how to compress the recipe, what swapouts are needed, and what should be cooking at the top of the segment. It also mentions whether or not they have to feed the audience and how much food they need to order. I send out recipes to the hosts and I'm out.
7:00pm: I meet my husband and daughter in the park and we walk around for an hour. It's gorgeous out.
Thursday, July 12
5:30am: I take the train to work today...yay.
6:10am: Kitchen meeting was a little rocky. There were a lot of changes to the recipes late last night so some of the dishes had to be made again and when the dishes change, the beauties change. This put the kitchen behind because they have to go buy more food and then cook the new dish so that they can shoot a new beauty and make a new swapout. Beauties are those gorgeous close-ups of food that you see throughout the show whenever a dish is mentioned. Swapouts are those dishes that magically appear in the oven or on the grill during a segment. For the record, these types of changes rarely happen.
6:45am: Martha is ready to unmold the beauty for Carla's summer pudding. To make a summer pudding, you mold bread that you have covered in jam into a bowl and then fill the bowl with stewed berries. You then let it sit overnight in the fridge. In theory, the filling should set up enough so that you can slice the dessert like a cake. Martha made three, just in case. We cut into the first one and it falls apart. No one panics, yet. We shoot a beauty of a whole one topped with whipped cream and it looks okay but not great. I really want the shot of a single slice on a plate with the whole pudding in the background. Martha cuts into the second one and with a little help from some whipped cream, it looks beautiful. We get the shot.
8:15am: I am making some final tweaks to the segments before the show starts. Clinton is rehearsing his Makeover segment on men's bathing suits so there's a model walking around in a speedo and another in board shorts with washboard abs. I'm not going to lie, it's a little distracting.
10:15am: The show was great. I know I am being a little vague about the details but it doesn't air until August and I don't want to ruin the surprise.
11:00am: I'm having a lobster roll for breakfast while I set up the second show. Lobster rolls make me want to be on vacation.
11:30am: In rehearsal, Mario asks if he can have a Parmesan shaver for his melon carpaccio. I send out the shopper but I'm not sure we can get it in time. I have a mandolin and a peeler standing by just in case they don't make it back. They do.
12:15pm: The melon carpaccio looks amazing on camera and is super easy. Thin strips of cantaloupe, spicy salami, arugula, shaved Parmesan and lime vinaigrette. I ask a stage hand to save me some for lunch.
1:00pm: Just wrap the last show of the week. I pack up a couple of tomatoes and some berries that are not going to last the weekend and head back to the office.
2:00pm: I go over the recipe ideas that I have for the hosts for next week with the senior producers to see whether they work in the shows or if we need to tweak anything. I clean off my desk which is covered with cookbooks, recipes that I have torn out of magazines, and scraps of paper that say things like moon pies and mojito cake.
3:00pm: I go over the recipe changes from the shows that we have shot but are not airing yet, just to get ahead.
4:45pm: I walk out the door.
6:00pm: I make dinner. Yellow wax beans with new potatoes and a mustard vinaigrette. Radishes with cucumber and feta. Sautéed zucchini and garlic with lots of oil and chili flake. Burrata and grilled bread. The three of us sit down to dinner and it's of course, the best part of my day.
8:00pm: Eleanor goes down, I pick up toys, then Jack and I watch a movie. I stay up until 10:00pm!
Friday, July 13
2:30am: Eleanor wakes up and wants to read a book. I go and lay with her until 3:00am when she falls back asleep.
8:00am: We don't have a show today so I don't have to be at the office until 10:00am. I am just getting out of bed. Jack takes Eleanor out for a bit in the morning so that I can sleep in a little. They have just gotten home and she is so excited to see me. We play a little in the house then I get her dressed and we go for a walk through the park.
9:15am: Jack and Eleanor take the train with me so that they can go to the water park in Central Park. I say goodbye at Columbus Circle and then head over to Epicerie Boulud and order a croissant and an iced Americano, exactly what I wanted.
10:30am: I have a conference call with Aaron McCargo, the host of Big Daddy's House, and a regular on The Chew. We go over his segment for the breakfast show we are shooting on Monday. I just realized that it's Friday the 13th. I hope nothing bad happens.
11:30am: Rundown meeting goes well but we need to add a cooking segment. I need to get another breakfast dish from Michael Symon but he is shooting Iron Chef America and I can't get a hold of him. I pitch him several ideas via text message and hope to hear from him soon.
1:30pm: I eat a spinach salad and pita chips for lunch and call my husband to check in. There is a package for me at home from my Dad. During the summer he overnights fresh pinto beans and black eye peas from the farmers' market in Texas where I grew up. We freeze them and eat them all year. I love these packages. Thanks Dad!
2:30pm-4:00pm: I interview two potential candidates for a position that I have available in my department for next season. One seems like a good fit but I need to keep looking, just in case. If you haven't noticed, I do a lot of things, just in case.
5:00pm: Still no word from Michael and I am starting to worry that I might not hear from him anytime soon. I used to work on Iron Chef and I know that they shoot two battles a day. The first ends around 1:00pm and the second doesn't end until 9 or 9:30. I call my husband and tell him that I will definitely be late.
6:30pm: My phone rings and it's Michael. Thank God! Bacon pancakes with spicy maple syrup, Roasted tomatoes with garlic breadcrumbs, and poached eggs. He is still at Food Network so I put something down on paper and email it to him for edits.
7:15pm-8:30pm: I take a cab home. If I take a cab I will definitely see my daughter before she goes to sleep. I might not make it in time if I take the train. When I get home my husband has made dinner, he's the best. We share a Pacifico and eat Zucchini Tacos with fresh pinto beans. I put Eleanor down and crack open another beer, then a movie, and bed.
See previous Food Informants below:
PHOTO GALLERY
Food Informants