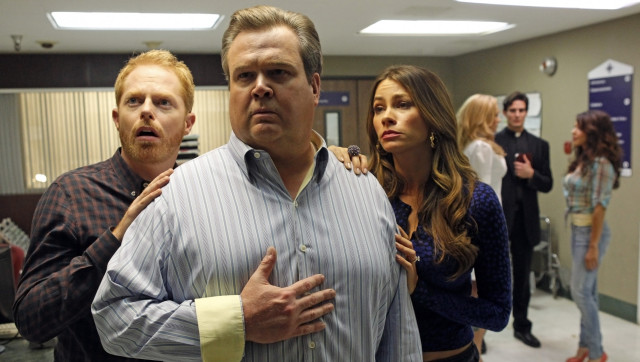 The cast of "Modern Family" will get back to work, according to Deadline.com. After the first table read for Season 4 was canceled on Tues., July 24, the cast is expected to meet and get to work on the premiere episode of the new season on Thurs., July 26, though their issues aren't settled.
Julie Bowen, Ty Burrell, Sofia Vergara, Jesse Tyler Ferguson and Eric Stonestreet are all in the midst of a contract dispute with 20th Century Fox. The five are negotiating together for a raise, got an offer, but rejected it and later filed legal action in an attempt to void their contracts with the producers. Ed O'Neill is in separate talks, but joined the lawsuit as a reported sign of solidarity with his cast.
Deadline.com reports the cast will show up to the newly scheduled table read as a good-will gesture.
Talks of the "Modern Family" cast's raise negotiations first emerged in March. The five adult cast members are reportedly seeking a jump from $65,000 an episode to $200,000. O'Neill is on a different payscale. According to The Hollywood Reporter, the brass presented the cast with an offer that would go as follows: $150,000 per episode plus the $50,000 bonus for Season 4, $200,000 per episode for Season 5, $225,000 for Season 6, and up to $325,000 for Season 9. After rejecting the offer, the cast filed a lawsuit seeking to void their current contracts claiming they violate a Californian labor code. There has been no progress in the contract dispute, according to Deadline.com.
For more on the current state of "Modern Family" cast contract dispute, click over to Deadline.com.
BEFORE YOU GO