A mural calling the NYPD "MURDERERS", spray-painted on a wall by a graffiti artist with the permission of the building owner, was painted over and removed by cops Tuesday. The artist has now been told by the building owner that the controversial painting needed the clearance of the NYPD, in what seems a clear violation of the First Amendment.
Artist Alan Ket told DNAinfo:
This wall is being censored by the NYPD. I told him I found it kind of strange he would feel he needed to get approval or permission or run anything by the police, but he said that he doesn't want any problems with the police, that the police are a bit threatening.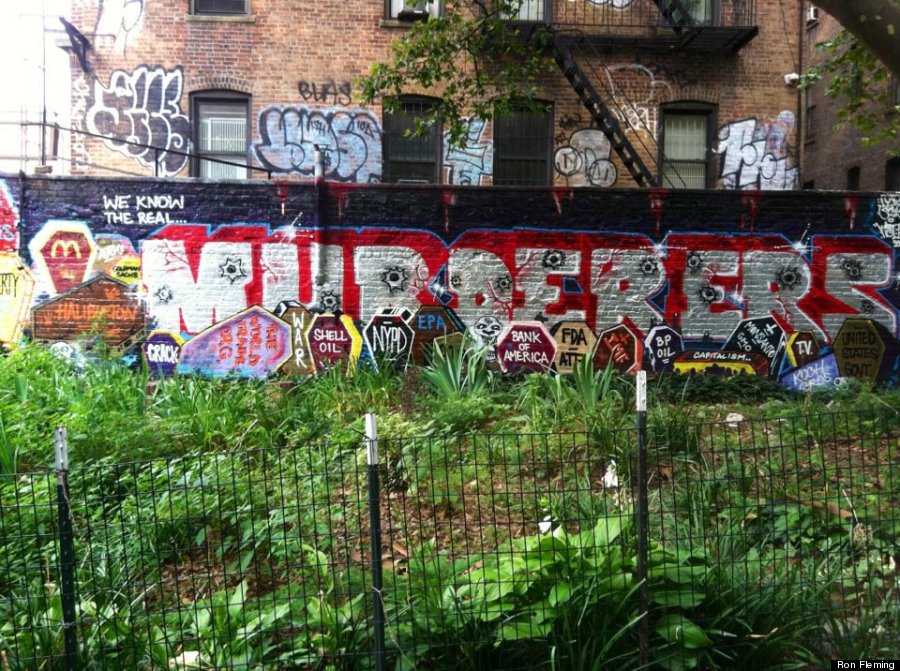 Photo courtesy of Ron Fleming.
The mural, painted on the side of an Inwood cleaners business, also included the names Haliburton, Bank of America, and the United States Government, all written on tombstones.
The nearby 34th Precinct appeared none too happy with the mural, and ordered two plainclothes officers to paint over it with black paint.
Ket responded to the removal on Facebook, writing:
"Graffiti is a legal term used to identify the defacing of property and this was not that at all? And was the message negative? It certainly was forceful but negative? How about opinionated. I painted the wall to communicate my feelings in light of the continued violence and injustice created against all living things by the people and corporations that I mentioned in the mural. There are hundreds [i]f not thousands of others that could be included. Its fine that you don't like it. We are all entitled to our individual opinions.... And thank you all who have posted in support of freedom of expression. Sometimes it just takes a small act like this to know where we stand as a community in the eyes of the authorities."
Ket's legal name is Alain Maridueña and he's had a series of confrontations with the law because of his prominent works of graffiti.
In 2007, NYPD raided Ket's apartment and confiscated 3,000 cans of spray paint. The city charged the veteran artist with 14 criminal counts including trespassing and criminal mischief.
He pleaded not guilty to all charges with his lawyers referencing Ket's work being displayed in well-known galleries throughout the city and his professional relationship with designer Marc Ecko.
Since the arrest, Ket has held a panel alongside retired police officers, one of whom arrested Ket years earlier, to discuss police brutality and graffiti work.