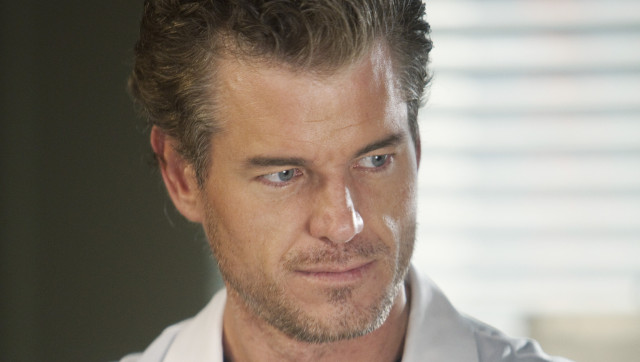 Eric Dane is leaving "Grey's Anatomy." According to TVLine, Dane will appear in a few episodes of Season 9 to wrap up the storyline for his character Mark Sloan, but then he'll leave the series.
"I am extremely grateful to everyone at 'Grey's,' ABC and Shondaland for the experience and memories I have had over the course of this run," Dane told TVLine. "It has been wonderful to work alongside and learn from a creative force such as Shonda Rhimes."
Dane's departure comes after Kim Raver and Chyler Leigh left "Grey's Anatomy" after Season 8. In the Season 8 finale, Lexie died in a plane crash right after Mark finally admitted he loved her.
Will Dane's character get over Lexie's death? Leigh told TV Guide she hopes so. "Will Mark go on? Absolutely. He'll move right along," she said. "That's just what Mark Sloan does. But initially I hope there will be a devastation."
Rhimes told TVLine she and Dane came to the conclusion to wrap up Dr. Mark Sloan.
"I wish him the best and I look forward to watching him as he continues to steam up the big and small screen," Rhimes said.
After the Season 8 finale, Rhimes took to Twitter to address the departures. "This finale was incredibly hard to write. I did not enjoy it," Rhimes wrote on Twitter. "It made me sick and it made me sad. We end the season not knowing ANYTHING about the future. Except for two things. We know we are definitely saying goodbye to two of my favorite people: Chyler Leigh (Lexie) and Kim Raver (Teddy)."
Raver took to Twitter to thank her fans and Rhimes after the finale.
Leigh also thanked the "Grey's" fans for their support. "My experience on 'Grey's Anatomy' is something that I will treasure for the rest of my life. I want to take this time to say thank you to the fans. Your unconditional love and support have made these last five years very special for me," she told TVLine in May 2012.
"Grey's Anatomy" returns on Thurs., Sept. 27 at 9 p.m. ET. Find out more ABC premiere dates here.