It is hard to forget the first time you see a Mike Kelley piece. I was touring a collector's home, and had just entered the fictitious "son's bedroom," designed with baby blue accents. A panoramic piece was mounted in the center, made up of five photographs, four depicting children's plush animals. A faded elephant, a limp girly pony — they seemed harmless.
But there in the middle was Kelley's face, pale against his stringy dark hair. His eyes were vacant, his mouth clamped tight, as if he had just been caught in a compromising position amid the teddy bears. I grabbed my friend's arm and pointed at the work, horrified. "Yeah, I love Mike Kelley," he responded nonchalantly. The next Kelleys I saw were his giant stuffed animal orbs at Tony Shafrazi's booth at Art Basel. The 1990s clusters of kitsch looked as if they had been dusted with artificial flavoring just before the fair... and yet I kept waiting for Kelley himself to pop out from the center. The artist's works were the perfect (and highly intoxicating) cocktail of playfulness and perversity.
This weekend, Kelley will be the centerpiece of the upcoming Watermill Summer Benefit. Yet like Kelley himself this will be no ordinary tribute. Curator Harald Falckenberg has selected music from the artist's postcollegiate band, appropriately named "The Poetics," to accompany the exhibition.
Also featured are pieces from Kelley's "Kandors" project, where the artist made glowing models of futuristic cities, which morphed to mimic their changing depictions in the "Superman" series where they got their name. The tribute will also play Kelley's final video, "Vice Anglais" (which is slang for sadomasochism). In most of his dark videos, Kelley did not just mess with the norms surrounding sexuality, family and art etiquette, he took the mess and rubbed it onto someone's naked body while dancing. This short film is a response to a study of pre-Raphaelite Dante Gabriel Rossetti's work, though you might not initially make the connection. By revisiting the works on view, it's good to note that while too often flagrant displays of taboo behavior eventually become boring, Kelley never lost his spark to unseat us. Whether exploring the inconsistencies in a favorite comic series or using an ear of corn as a sex toy, Kelley's punk vision is still spot-on.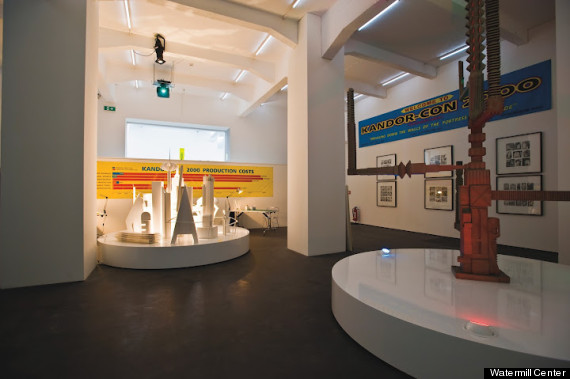 The next big batch of Kelley works I saw were after his suicide in February of this year. His death, at only 57 years old, shook the art world to the core, especially in Los Angeles, a scene which Kelley had a key role in shaping. He played a key role in controversial MOCA exhibition "Helter Skelter," one of Paul Schimmel's iconic MOCA game changers, where Robert Hughes dubbed Kelley's work "visual zit popping." But the message of prolonged adolescence was, we would guess, music to Kelley's ears.
UPDATE: The exhibition closes on September 16, 2012. Reservations can be made here: http://watermillcenter.org/events/mikekelley
BEFORE YOU GO