A number of bloggers are praising Target's new same-sex wedding registry ad -- but is it enough to quiet naysayers' doubts about the megabrand's seemingly contradictory stance on lesbian, gay, bisexual and transgender (LGBT) issues?
The ad, which can be viewed below, features two formally-dressed men holding hands with the slogan: "Be Yourself, Together."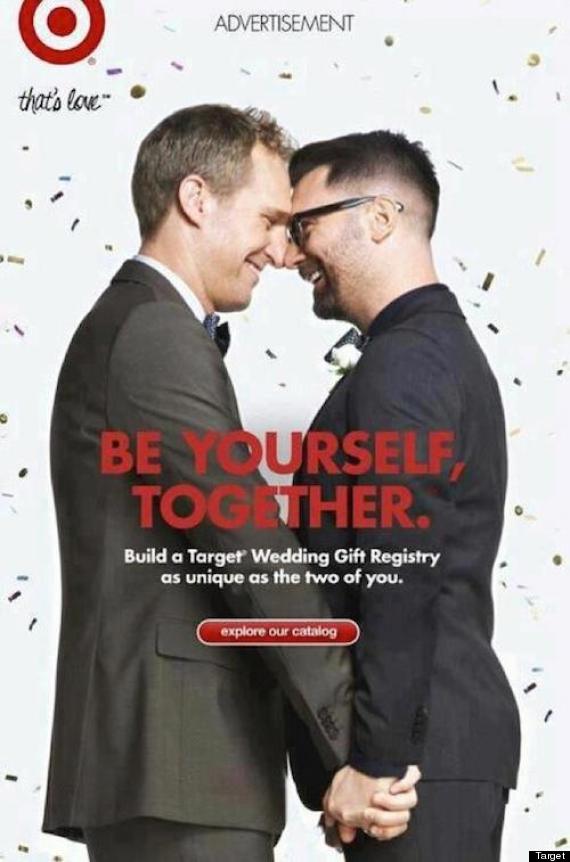 Among those to applaud Target's effort was David Badash of The New Civil Rights Movement, who called the ad, which comes on the heels of the company's line of LGBT Pride T-shirts as well as same-sex wedding cards, "kinda awesome."
Still, the news comes just after Target found itself in the headlines after deciding not to sell "Channel Orange," the critically acclaimed new album by R&B singer Frank Ocean. Though Target officials claimed the decision was purely a reaction to iTunes' one-week exclusive sale of the album, many wondered if the move had actually been prompted by Ocean coming out as a gay man.
Furthermore, the Pride T-shirt line, which was available online but not in stores, was also viewed by some as a half-hearted attempt at erasing past offenses, despite the fact that the company donated a portion of proceeds from the shirts to the Family Equality Council, an LGBT advocacy group.
In 2011, Target faced a backlash when it was revealed the company had made a controversial political donation to MN Forward, a group supporting Republican gubernatorial candidate Tom Emmer, a vocal gay marriage opponent. Quickly, anti-Target groups were created on Facebook, and Lady Gaga nixed an exclusive album deal with the retailer in a show of support.
Still, as NewsOK reported, the company has continued to be a major sponsor for the Pride festivities in Minneapolis, and also scores high on the Human Rights Campaign's corporate equality index, which rates businesses on workplace policies for LGBT employees.
View other LGBT-themed ads in the slideshow below:
BEFORE YOU GO
PHOTO GALLERY
LGBT Commercials