One of the hottest rumors in the pre-Opening Ceremony buzz was that Daniel Craig would kick-off the event that serves as the official launch of the London Olympics.
It turned out to be true ... sort of.
A pre-recorded skit -- directed, of course, by Danny Boyle (the celebrated filmmaker helming the entire ceremony) -- featured Craig in character as James Bond. He traveled to Buckingham Palace, where he was notified that his new mission was to launch the Olympiad.
The Queen -- and her corgis -- also appeared in the bit, which was notable not just for its star-wattage but for the nearly unprecedented access Boyle and his cameras were given. Private rooms within the residence were shown, a testament to the nation's commitment to making the evening a special one.
Army helicopters then flew over the Olympic Stadium with a stuntman who played "Bond." He then parachuted into the stadium to the tune of the theme from the James Bond movies. The best part? A stunt Queen also dropped in, Union Jack parachute and all.
Here's a photo of the pair in the Palace: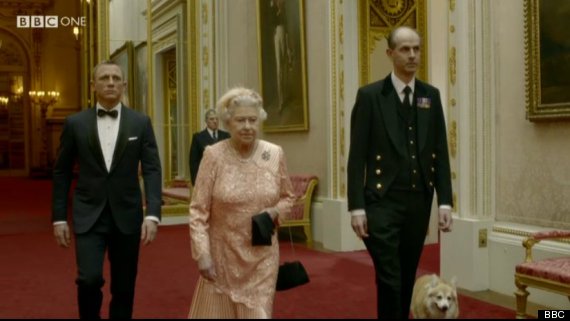 A number of musical performances were planned for the evening. A playlist of the event's music was leaked in advance of Friday, and Bond's theme was high on the list.
For more from the proceedings, head over to our live blog of the Opening Ceremonies. All of HuffPost's coverage of the Summer Olympics is available here.
Photos From Today's Events:
PHOTO GALLERY
Olympic Opening Ceremony
BEFORE YOU GO