After a company releases an earnings report, as Facebook did for the first time yesterday, it's analyst tradition to tease out hints about the company's financial future based on what companies executives have said (judging from Facebook plummeting stock price, Wall Street isn't jazzed).
Facebook users, on the other hand, just want to know how they'll be affected. So how will you, Joe Facebooker, find your Facebook experience altered in the near future? Here are the clues company executives offered up in yesterday's earnings call.
No Facebook Phone (So Says The Company)
If your heart's set on the much-rumored Facebook Phone, don't hold out: Facebook is totally not working on a phone, you guys. Or at least that's the line they're sticking to.
"It wouldn't really make any sense," CEO Mark Zuckerberg said during the earnings call of a Facebook-made phone. Why? Well, Facebook's app is currently the most-used for on platforms and the company just scored a deal to have it deeply integrated in the latest version of Apple's iOS, Zuck argued. Why rock the boat?
But again, that's just the company line. Facebook knows it has to diversify its products beyond social (think Google moving beyond search). Really, it wants to be everywhere. And just yesterday, ahead of the earnings report, Bloomberg reported that the social network was working with HTC to make and release a phone by mid-2013 (according to the always nebulous "people with knowledge of the matter").
This could just be the rumor mill doing what the rumor mill does. Or it could be Facebook managing expectations regarding a new phone (much like they lowered expectations before the releasing their financials Thursday). We're still betting on the latter.
Expect Many More Of Your Friends To Become Unwitting Pitchmen
One of the things majorly played up during the earnings call was Facebook's Sponsored Stories offering -- better known as those (annoying) ads that pitch products by telling you how much your friends "like" them. Chief operating officer Sheryl Sandburg called it the "cornerstone" of Facebook's mobile strategy. All that talk suggests Facebook is bullish about increasing the amount they bring in from Sponsored Stories, which is currently around $1 million a day (half of that from mobile). To put that in perspective, Facebook reported $1.2 billion in revenue for the quarter.
Our takeaway: We're gonna see many more of our friends "telling" us what things to buy via Sponsored Stories in the near future. During the call, Zuck said new ads would be rolled out gradually, as Facebook would "test and measure everything in the system on News Feed." But not making jarring changes is, as anyone who's been annoyed by Facebook's tweaks before, not something the company's particularly good at.
Facebook's Not Messing With Instagram Yet
Instagrammers: No need to worry about Facebook mucking up your hip e-Polaroids. Facebook, which made an offer to buy the app for $1 billion in April, will leave the app alone -- for now.
"The acquisition hasn't closed, so no integration at all yet," Zuckerberg said of Instagram. "We will continue to buy companies for talent."
So, Zuck is insisting that that Instagram won't be fully rolled into Facebook before the FTC approves the deal. Of course, notice that he leaves the possibility of integration after the deal is finalized wide open. We'd expect that at some point.
Even if Facebook doesn't want it to, Instagram is already changing. Twitter, likely anticipating Facebook and Instagram melding in the future, killed the "Find Friends on Twitter" feature of the Instagram app by blocking its data. No longer a scrappy start-up but instead a satellite of the Facebook empire, Instagram isn't enjoying special treatment from Twitter anymore.
Americans, Don't Expect To Have Many Other Friends Joining Facebook
Though no one at Facebook hinted at it directly -- again, why boost expectations only to underperform? -- we're really really close to seeing 1 billion Facebook users in the near future. Consider: According to the earnings report, 955 million people use Facebook every month. It had 739 million this time last year. Barring a catastrophic collapse, 1 billion members is inevitable.
But one thing Americans should keep in mind when reading "1,000,000,000 FRIENDS!" headlines in the future is that they don't mean much for your Facebooking. In the U.S., it's unlikely that many of these new users will be people that you know. Consider the chart below from Thursday's report. User growth within the U.S. and Canada has stagnated, up only 3 million (183 million to 186 million) from the first quarter of 2012. Most new users are logging on from outside North America and Europe. Facebook has already saturated the U.S. and much of the rest of the developed world.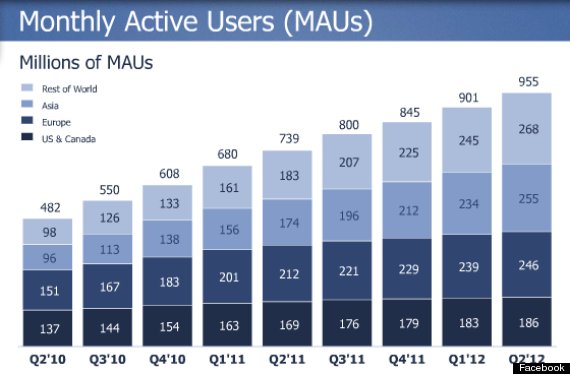 What do you predict Facebook's future holds? Weigh in below.
BEFORE YOU GO