If you thought you couldn't avoid "Fifty Shades Of Grey" during your public transit commute already, it looks like the erotic novel will inundate the pages of another train diversion this fall when fashion glossies begin running a "Fifty Shades"-inspired ad campaign.
Andrew Marc's upscale brand division Marc New York took inspiration from the steamy storyline for their Fall 2012 ad campaign, which features 2012 "Celebrity Apprentice" contestant and 2008 Miss Universe winner Dayana Mendoza and former Scottish rugby player Thom Evans. The shot captures the two in quite a suggestive pose with Ms. Mendoza's dress unzipped and Thom sporting nothing more than a towel. The overall result is surprisingly tame though considering the influence.
This is an interesting choice for the the brand's very first advertising campaign -- we're not sure how many people will be focusing on the clothes here. But, with everyone trying to snag a piece of the "Fifty Shades" pie (don't forget about all of the book's clothing, makeup and houseware lines coming your way), it's not surprising that the high fashion world would have a go at it. According to Women's Wear Daily, the ads will run in the September and October issues of Glamour and People Style Watch, so the faint of heart should be well-prepared to avert their eyes on the subway by then.
What do you think of Marc New York's "Fifty Shades Of Grey"-inspired campaign? Check out the ad and tell us what you think.
PHOTO: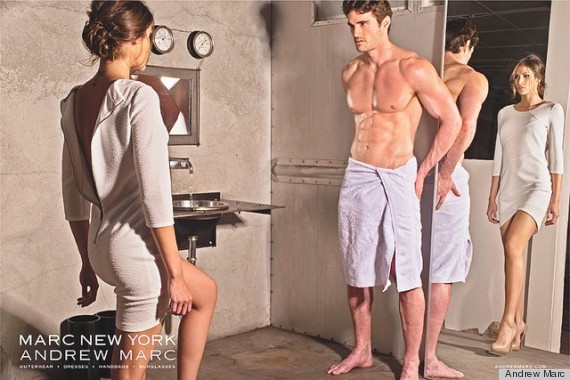 Check out some more controversial ads!
Want more? Be sure to check out HuffPost Style on Twitter, Facebook, Tumblr and Pinterest.