This week we caught up on the MOCA drama, caught up with our favorite hero Ai Weiwei, and contemplated buying a taco on Etsy. Read on for more... Robert Storr, professor and Dean of Yale's School of Art, speaks on the current situation at MOCA:
"The on-going fiasco at MOCA is a case in point. Broad and his enabler Jeffrey Deitch are in the process of undoing the work of many committed and knowledgeable people and thereby depriving the public of Los Angeles of a great art institution. Why? Simply because they won't listen to professionals -- the curators, fundraisers and trustees with long service who are now bailing out or being driven out, men and women who actually know more about museums and have more experience running them than either Broad or Deitch, and who have proven over the last 20 years that they are capable of building a world class museum. Moroever, Broad and Deitch have botched the public relations aspects of their bad decisions in ways that make you wonder how they were so successful in other contexts."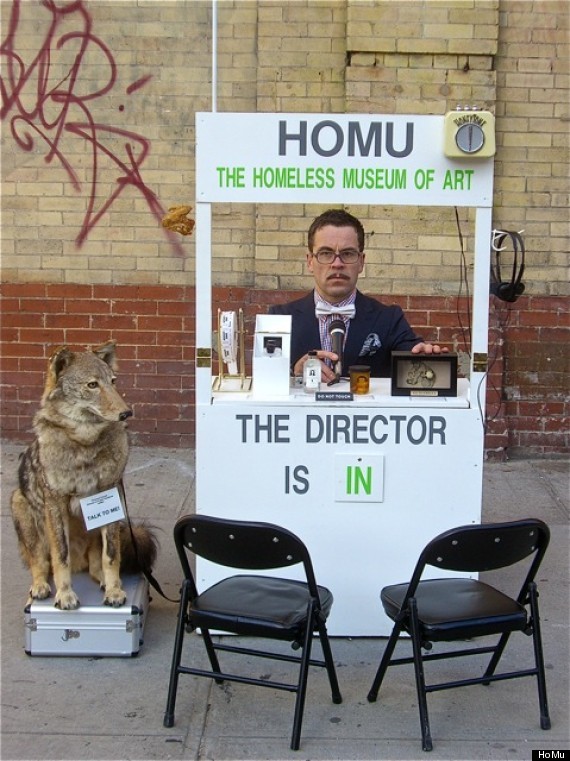 On the other end of the museum finance spectrum, we spoke with Filip Noeterdaeme, eccentric art collector and museum director of the Homeless Museum of Art. Noterdaeme sat in a straw fedora and plaid bow-tie, donning a penciled on pencil moustache and glasses that he later revealed were fake. With one hand he loosely gripped a fake cigarette on a holder, which he theatrically puffed on from time to time, the other was looped around a leash attached to a taxidermy coyote named Florence, who served as Noterdaeme's PR representative, among other things. Click here to read about our odd adventures.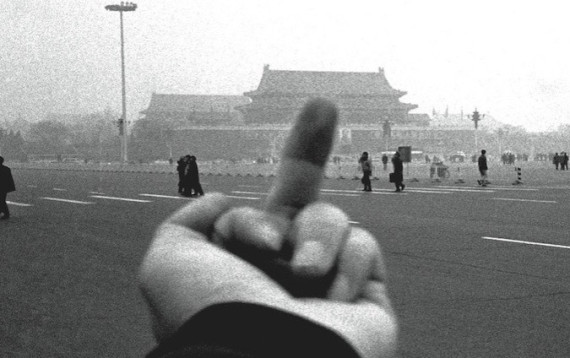 Gazelle Emami from HuffPost Culture interviewed Alison Klayman, the director of the upcoming Ai Weiwei documentary "Never Sorry." The interview has some beautiful moments discussing one of our all-time heroes, like when Klaymen discusses whether Ai is an artist or an activist:
"Are we seeing him jumping between these two? Is one bleeding into the other? Is he abandoning one for the other, what's going on with this. And what I came to decide after getting a lot of material and thinking, how would I answer this question now, is really that yes, he is a social commentator, he is a political organizer, but I don't ever tink about it and I don't think he does either, like, OK I'm taking off my artist hat now, now I'm gonna put on my activist hat or my public intellectual hat. I really think that he always identified as, I'm an artist, by outlook, by profession. So what it's more about is his art and the artistic motivation and intention. It's really all about communication. I think that's his main work in life."
Speaking of heroes... PBS released a gem of a video remixing the late and great Bob Ross and his "Joy of Painting" instructional programs with an Autotune twist.
Lastly, we interviewed Brad Troemel, a conceptual artist/NYU professor/Etsy master whose online store is full of bizarre combinations of ready-made goods that look surprisingly enticing considering their expiration date. We highly recommend it... here's a taste:
"Organically speaking (speaking of, shout out to Walmart and Whole Foods), a defining sentiment of our time is the desire to do good in the face of nihilism, irony, or whatever we perceive to be counteractive forces of evil (The Socialist Agenda, Scientology, Dem Murdoch Boyz, etc.). Even the most dreadlocked-up person you know, even the mom publicly breastfeeding in Trader Joes, even the millionaire in Palo Alto who scooters to his day job has accidentally bought into the idea that his most effective political weapon is not voting in a democracy but his participation in markets, his purchase of products, his public display of being a supporter of those products, his ability to create an image of political allegiance on the level of objects and images. "
Have a wonderful weekend everyone! We'll see you on Monday.
BEFORE YOU GO