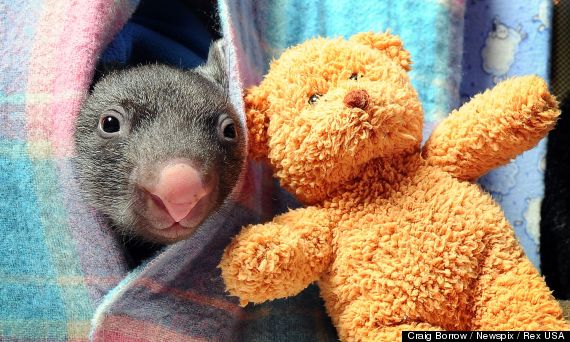 Staff at a Melbourne, Australia, animal shelter said that a baby wombat was lucky to be alive after her mother was stuck and killed by a car last month.
The wombat, which staff have named Caddy, was hiding in her mother's pouch at the time of the accident. Upon arrival at the Warrandyte Wildlife Shelter, she was placed in a plaid-print pouch, which acts as a surrogate.
SCROLL FOR MORE PHOTOS
Baby wombats spend about five months in their mothers' pouches before emerging but will frequently crawl back in for protection and milk, according to National Geographic.
Caddy's temporary pouch is also supplemented with a couple of Teddy bears.
"Two soft toys, which have been companions to hundreds of orphaned wombats over the past 15 years, help keep her company," shelter manager Linda Sauvarin told The Daily Mail.
The wombat joey weighed less than 2 pounds when she came to the shelter. She will be released into the wild once she reaches about 55 pounds, the Daily Mail notes.
According to the Wombat Protection Society of Australia, it is fairly common to encounter wombats that have been injured by automobiles. "Wombat joeys can live for many days in their mother's pouches after the female is killed," the website states.
Wombats are native to Australia and are noted for their adaptability to different habitats; they make homes in forests, mountains and grasslands in New South Wales and Tasmania. Unfortunately, the northern hairy-nosed wombat is an endangered species that is threatened by predators and habitat destruction.
Baby wombats, such as Caddy, often get a lot of attention in the media. In January, an adorable video of wombat babies playing at Australia's Healesville Sanctuary even went viral.
LOOK: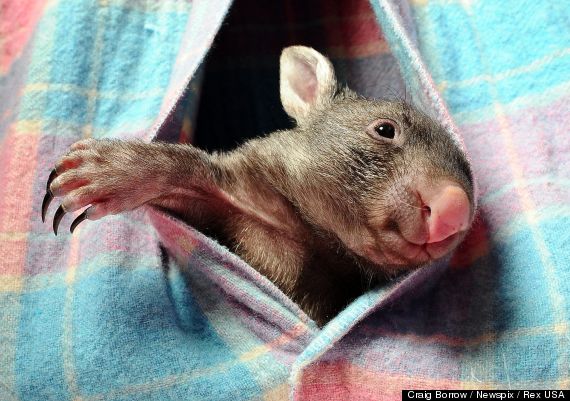 BEFORE YOU GO
PHOTO GALLERY
Threatened Animals