It's official: modest swimwear can be kind of fabulous.
After long being associated with the religious set, covered-up bathing suits have recently seeped their way into more mainstream swim wardrobes. You can even count us among the trend's fans (hey, we're cool with anything that makes women feel comfortable and prevents potentially-awful beach wardrobe malfunctions). But now we've discovered some modest swimsuits that we not only approve of but would totally wear ourselves.
New Delhi-based designers Shivan Bahtiya and Narresh Kukreja's solution to Indian women's bashful bathing suit needs are luxurious bespoke bikini-saris. The draped suits range from black shawled two-pieces to brightly colored gown-like swimwear. "Indian women have the best bodies in the world and are also the most shy about them," Kukreja told The Sunday Times. "Our swimsuits aim at bringing them out of their shell."
Rules of purdah, the Hindu and Muslim requirement of women to cover their bodies, vary depending on interpretation and observance levels. But it seems like the designers had more of the traditional Indian aesthetic in mind rather than pious dressing when they conceived their bikini-saris.
These elegant, confidence-inducing swim gear don't come cheap though -- one virtuous suit can set you back around $700. But aren't they beautiful? It makes sense that Bollywood actress Bipasha Basu opted to wear one of Shivan & Narresh's bikini-saris to the International Indian Film Academy awards last month (even though hers has been quite the topic of debate in India). Would you wear a bikini-sari?
PHOTO: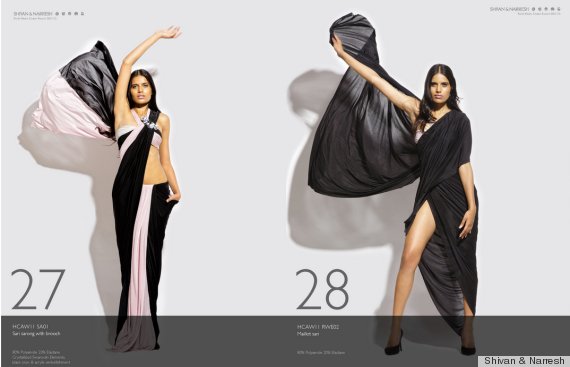 See the rest of Shivan & Narresh's bikini-saree lookbook!
Want more? Be sure to check out HuffPost Style on Twitter, Facebook, Tumblr and Pinterest.