Brian Atwood, one of our fave shoe designers, is kicking off a giant campaign to, well, get noticed: there's a revamped website, a freestanding store and a series of ads in the works.
The ad campaign in particular is none too subtle. The snaps, previewed in Women's Wear Daily today, feature a rather severe-looking Candice Swanepoel, known more for bikini catalogues and lingerie fashion shows, in thigh-high Brian Atwood boots. It's not her first high fashion turn (recall her contortionist Prabal Gurung campaign), but this one is certainly racier than her typical catalogue fare. In the spirit of Lara Stone's Calvin Klein Jeans' ads, Candice is caught right in the middle of a veritable make-out party.
Instead of awkward teenagers, this party's made up of hot shirtless models, each looking like a cross between Adam Levine and Ryan Lochte. Candice, for what it's worth, looks entirely at home surrounded by the buff bods -- maybe someone's looking to move on from those Angel-filled, single-sex shoots and score sultrier gigs?
We certainly would not be opposed.
Check out the ad below and read more at WWD.com.
PHOTO: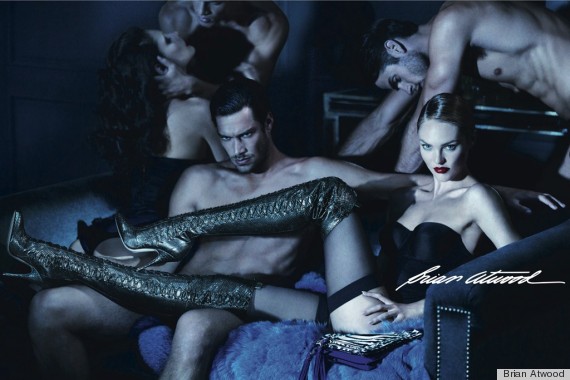 See Candice though the years!
Want more? Be sure to check out HuffPost Style on Twitter, Facebook, Tumblr and Pinterest.