Take a cue from this adorable cat watching a puppy live feed and carve out some time in your morning routine to get in a daily dose of fluff.
Reddit user mseling uploaded this heart-melting photo of her cat's new favorite thing to do -- watching a live camera feed of golden retriever puppies in their play pen. The adorable photo shows her cat Baba swooning over the six sleeping service pups in Brookeville, Maryland.
"He wouldn't take his eyes off them," mseling wrote in a comment. "Now we must get a puppy. It's clearly what he wants.
Another photo shows Baba joining the slumber party, falling asleep on mseling's MacBook as the live feed is still rolling.
"He fell asleep like that, too! After watching for several minutes he just dozed off. It was the best thing I've ever seen," mseling wrote.
The puppy cam is one of many that have taken over the Internet recently. The first live feed debuted in 2008 to the awws of millions of viewers worldwide. Since then, dozens of live feeds have popped up following the births of puppies, kittens and pandas alike.
See the aww-inducing photo for yourself below and click over to Explore.org to see the golden retriever puppies in action.
PHOTOS: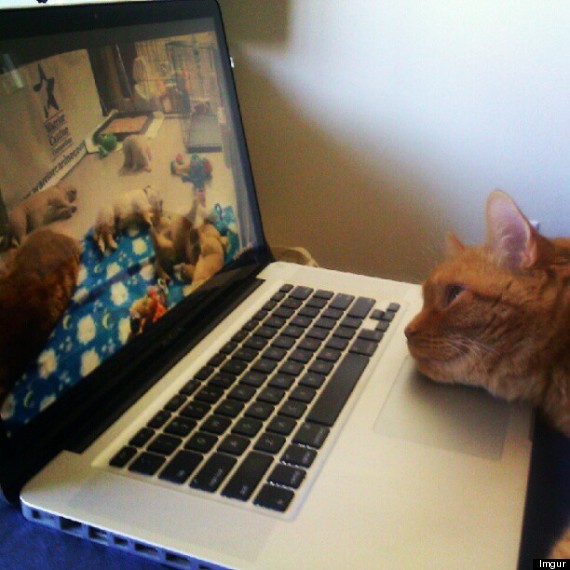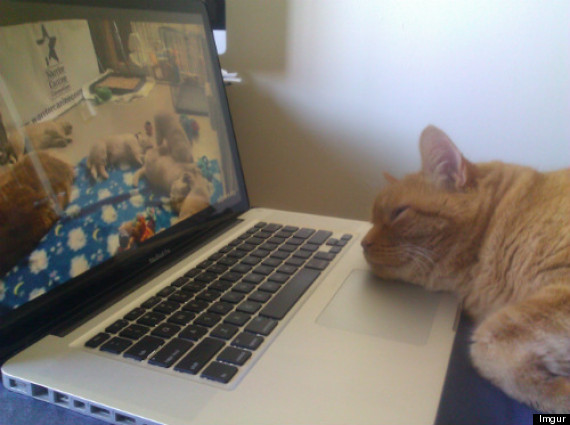 And just for the heck of it, here's a slideshow of more puppies.
Related on HuffPost: