Crystal the Monkey -- whose TV and movie credits include the "Night at the Museum" sequel, "We Bought a Zoo," "The Hangover II," "Dr. Doolittle" and "Community" (yep, she's Annie's Boobs!) -- is now the biggest headline-maker of NBC's new fall schedule, starring in "Animal Practice."
Her presence at Television Critics Association Summer Press Tour even won applause from the usually tough crowd of critics and afterwards, I got to hang out with Crystal while interviewing her trainer Tom Gunderson. (We go way back -- check out this old interview with them.)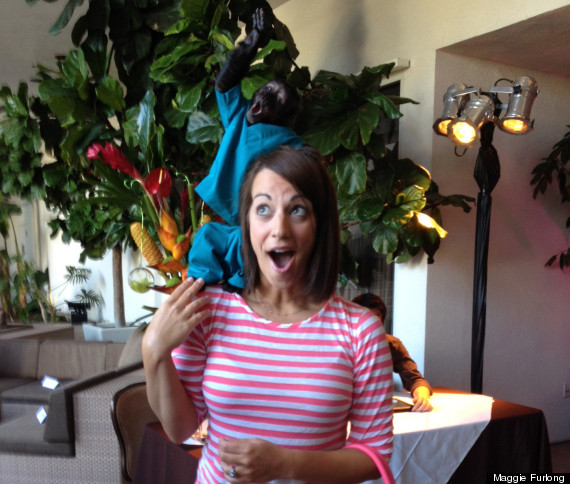 Crystal's the star, obviously, but Gunderson is the man behind the monkey, going wherever she goes to make sure that she's well taken care of and hits all of her marks. (Remember the ridiculous smoking monkey controversy with "The Hangover II"? Gunderson was there to ensure that no cigarettes were lit and no monkeys inhaled.)
So when I walked into the TCA cocktail party and reunited with that cute little capuchin face-to-face, after first meeting her during press for the "Night At the Museum" sequel, I was excited to get some "Animal Practice" scoop from Gunderson as well.
On the new NBC comedy, Crystal plays Dr. Rizzo, the simian sidekick to Justin Kirk's veterinarian lead character, Dr. George Coleman. The show takes place in a rather unconventional animal hospital, so obviously Crystal isn't the only furry celebrity on set, but Gunderson said she's fine with most of her animal kingdom costars -- except one.
In a scene featured in the show's trailers (see the 2:28 mark at the bottom of this post), Crystal is seen in an adorable plastic visor, taking bets on a turtle race in the back room.
Gunderson said that one of the turtles really rubbed her the wrong way because it was determined to veer off course and walk right toward her. He didn't mention any power plays with the cats, dogs or tiger from the pilot, but he did also note that he had the idea for one of Dr. Rizzo's more endearing character quirks: He suggested they make her a gambling addict since he knows how good Crystal is at working with props.
As for her time stealing prop pens and shiny objects on "Community," fans of Annie's Boobs don't need to worry -- Gunderson pointed out that the "Animal Practice" set at Paramount will be just a few doors down from where "Community" shoots, so he'd be more than happy to pop by if they wanted her back.
"Animal Practice" premieres Wed., Sept. 26, 8 p.m. ET on NBC.
For more on NBC's new 2012-2013 shows, check out the slideshow below: