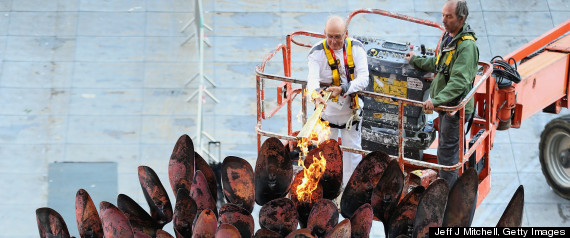 Although it didn't die by accident, the London 2012 Olympic flame had to be extinguished for security reasons on Sunday evening.
By tradition, the Olympic flame must be kept burning inside its cauldron for the duration of the games, but technicians had to put it out while they moved the vessel to a new location inside London's Olympic stadium, the Daily Mail reports.
Before cutting the gas, torch bearer Austin Playfoot transfered the flame to an Olympic torch. Playfoot, who was a torch bearer for the games in 2012 and 1948, re-lit the flame from a cherry picker once the cauldron was moved.
"Thankfully, it was not accidentally extinguished by London's perpetual rain," Gizmodo notes.
The rain at the London Olympics has caused delays, and reportedly dampened the mood at the otherwise festive games.
However, the Telegraph points out the torch was put out accidentally during its journey around Britain, prior to the games.
Nevertheless, this isn't the first time the flame has been extinguished during the Olympics.
A rainstorm during the 1976 Summer Olympics in Montreal put out the ceremonial fire in its cauldron, which was then re-ignited using an official's cigarette lighter.
Although the London Olympics has come under criticism for its security, its empty seats, and its weather, at least the British authorities took measures to keep the fire burning during the move.
(via Fark)
BEFORE YOU GO