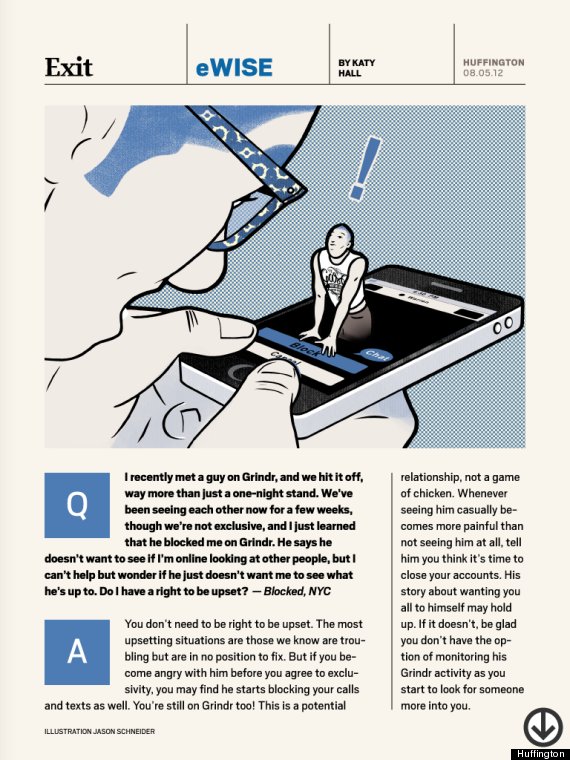 I recently met a guy on Grindr, and we hit it off, way more than just a one-night stand. We've been seeing each other now for a few weeks, though we're not exclusive, and I just learned that he blocked me on Grindr. He says he doesn't want to see if I'm online looking at other people, but I can't help but wonder if he just doesn't want me to see what he's up to. Do I have a right to be upset?
— Blocked, NYC
You don't need to be right to be upset. The most upsetting situations are those we know are troubling but are in no position to fix. But if you become angry with him before you agree to exclusivity, you may find he starts blocking your calls and texts as well. You're still on Grindr too! This is a potential relationship, not a game of chicken. Whenever seeing him casually becomes more painful than not seeing him at all, tell him you think it's time to close your accounts. His story about wanting you all to himself may hold up. If it doesn't, be glad you don't have the option of monitoring his Grindr activity as you start to look for someone more into you.
I was killing time in the waiting room before a doctor's appointment, and I pulled up Grindr. Lo and behold, less than 100 feet away, I found my doctor! For some reason, this really freaked me out. I didn't say anything during the appointment, but I'm not sure I feel comfortable going to him — let alone hearing his advice on sexual health — ever again. Am I being unreasonable? I know the man has a right to a private sex life, but something about this isn't sitting well with me.
— Freaked out patient, NYC
Relax. Someone who is having sex is probably better qualified to advise you on staying safe than someone who is not. And there's no reason to believe he's not following his own advice. It may even be easier to be candid about your own habits with a doctor who is unafraid of posting his photo on Grindr. There is nothing like a judgey doctor to make you avoid embarrassing questions and neglect tricky health issues. You will not surprise this man! But if you're no longer comfortable disrobing in his office or discussing your sexual health with him, it may be best to find a new doctor.
Have a question about electronic etiquette? Email ewise@huffingtonpost.com.
This story originally appeared in our weekly iPad magazine, Huffington, in the iTunes App store.