Food Informants is a week-in-the-life series profiling fascinating people in the food world. We hope it will give you a first-hand look at the many different corners of the food industry. Know someone who would make a great Food Informant? Tell us why.
Since taking the reins as Executive Chef at Absinthe Brasserie & Bar in late 2010, Chef Adam Keough has garnered a three-star review and inclusion in the 2011 and 2012 "Top-100 Bay Area Restaurants" list from the San Francisco Chronicle, a first for the restaurant since opening in 1998. A Boston native and Michael Mina Group vet, Keough has years of fine dining experience in restaurants across the country. He is also a two-time James Beard Foundation semifinalist for national "Rising-Star Chef of the Year," in 2007 and 2008.
Read more to see how Chef Keough prepares for a huge dinner in a city he doesn't live in.
Sunday, July 15
8:00am: I head to the Absinthe kitchen early to work with my sous chef Eddie for what will be a very long day. I broke down and had my first coffee in three weeks -- an iced Sightglass coffee (a local roaster making excellent product). For the past three days, I did my first juice cleanse -- partially because my girlfriend suggested it and partially because I knew what was about to happen during my upcoming week in New York.
10:00am: I have numerous phone calls with vendors providing meats and produce for our James Beard Dinner on Thursday. We are shipping a lot of our favorite ingredients from our Northern California farms like duck from Liberty Farms.
1:00pm: A local couple from San Francisco is having their wedding reception in our private dining room. In addition to brunch for 223, we prepped for this party of 28. Since Absinthe is so close to City Hall, we host receptions for smaller weddings every weekend.
2:30pm: After the brunch rush, I had a call with Matt Abdoo, the chef de cuisine of Del Posto in New York, who has been a tremendous help in my planning the JBF dinner. We organized when we would have access to their kitchen, which farmers' markets I should go to while there, and what all I was having shipped from San Francisco to him for the dinner.
4:30pm: Line-up with the staff to go over new dishes, VIPs in for dinner, and the plan of action for the upcoming week while both myself and our exec pastry chef Bill Corbett will be in New York. We have 243 covers on the books.
Monday, July 16
8:30am: I arrive at SFO for our direct Virgin American flight to New York. Virgin is my favorite. The flight was right around 5 hours...just enough time for a Bloody Mary (breakfast) and a Gin & Tonic (while watching a few episodes of Mad Men).
8:30pm: Dinner at Momofuku Ssam bar. It's true what everyone says about the pork belly steamed buns. I could have made a trip here daily to eat them. Also highly recommend: the spicy honeycomb tripe and the spicy pork sausage & rice cakes. Watch out for the sichuan peppercorn! For dessert, Momofuku pastry chef Christina Tosi saved us an off-the-menu "pancake cake" which was a layer cake that tasted just like pancakes with syrup and jam and served with a side of bacon and butter sauce. Pretty creative.
10:30pm: I'm with the bar team from Absinthe, so we can't go back to the hotel without a nightcap. Booker and Dax is right around the corner from Ssam and I have the Aviators with gin and clarified grapefruit and lime juice (Dave Arnold's take on an Aviation). It's as clear as water but definitely sneaks up on you after one.

Tuesday, July 17
9:30am-12:00pm: Bill Corbett and I have several meetings with magazines based in New York. Thankfully, he used to live in Brooklyn and work in Manhattan, so we navigate the subway system pretty easily despite having to go from Chelsea to the Financial District to Times Square and Gramercy.

1:00pm: Squeeze in a slice of New York pizza on the way. I can't recall where we stopped, but isn't that one of the great things about New York? Good, big pizza slices on every corner.
2:00pm: Back at the hotel to make several phone calls to my crew in San Francisco to ensure all of our shipments were getting out and products that we had ordered were coming in.
7:00pm: I'm at Death & Company with our bar team, Jeff Hollinger and Matt Conway. They are guest bartending and slinging cocktails left and right. I decide to start with Pan American Clipper (with calvados, housemade grenadine, absinthe and line) and then proceed to try four other cocktails they are serving on their special menu. Unfortunately, someone says "shots," so we have a Fernet with the team and then decide to find some grub.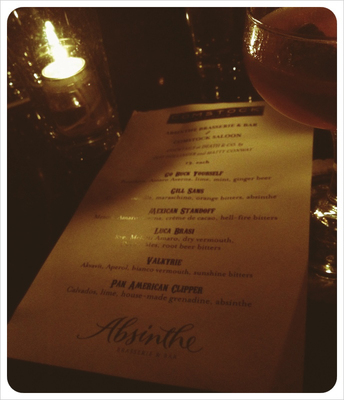 12:00am: We're in the East Village. It's late. We're really hungry with no plan of action and somehow find ourselves at Phebe's Tavern. I'm trying to forget the platter of fried everything that we ordered.

Wednesday, July 18

9:00am: Despite going to bed around 3:00am, I managed to get up and moving. My first stop was coffee, and, luckily, Eataly was a block from our hotel. I ordered a vanilla latte and it hit the spot.
10:10am: I was a guest on the Martha Stewart "Morning Living" Radio show with hosts Betsy Karetnick and Brian Kelsey. The studio is located in the Sirius building with an incredible view of Times Square. We talked about East coast versus West coast cuisine, some of the ingredients on my menu for the James Beard dinner, my "shrimp guy," and my Boston roots.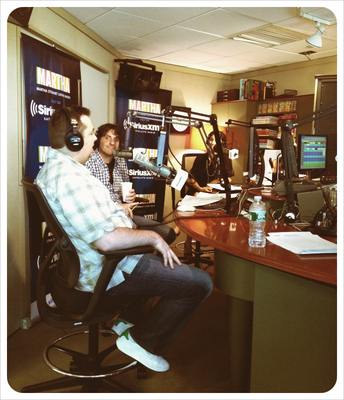 11:00am: I get a call from Justin Simoneaux, exec chef of The Absinthe Group's Boxing Room, who came with us to help. He's at Del Posto already sorting through everything we had shipped for the dinner. All of our stonefruit for chutney to accompany the Liberty Farms Duck came in smashed, so we need to scramble to find more.
11:15am: I meet Justin at the Union Square farmers' market and luckily we found some plums, nectarines, peaches and apricots. We were also hoping to find nettles here for the Crispy-Wild Nettle & Potato Roll with black-truffle aioli and piment d'Espelette since we could not find any back in San Francisco in time. We see some chives and decide to make the switch.
12:00pm: I headed to Del Posto to begin prep for the James Beard dinner. The kitchen team was nice enough to let us use their kitchen and storage all day because we were not able to access the Beard house kitchen until 8:00am the day of the dinner. Chef de cuisine Matt Abdoo, exec pastry chef Brooks Headley, and pastry sous chef Roger Rodriguez were extremely helpful through the process. I'm amazed by this restaurant. It's an incredible accomplishment to put out the quality of food they do with the amount of seats they fill for lunch and dinner on a daily basis.
12:15: We are awestruck at the size of Del Posto's banquet kitchen and realize that we've just been staring at it for the past 15 minutes.
3:30pm: An insanely crazy thunderstorm hits and lasts about 2 hours. Luckily, I was still in the kitchen for most of it, but had to dodge high wind, heavy rain, and hail on my way back to the hotel. Between rush hour and the storm, it proved impossible to get a cab, so, needless to say, I was pretty drenched along with half of Manhattan.
6:00pm: We realize that amongst everything else we are organizing and doing, we haven't thought about how to transport our prep from Del Posto to the JBF house. I begin making phone calls to van rental spots.
7:00pm: Bill Corbett calls with good news. Roger from Del Posto has a truck and is willing to help us in the morning.
7:30pm: I needed a drink. It was a long day and my girlfriend had arrived from San Francisco, along with several friends from Boston. We went to San Rocco, right next door to the hotel, for a Gordon's Cup with cucumber and gin, and ended up staying for dinner. Quaint little spot with outside seating (thankfully the rain had ended).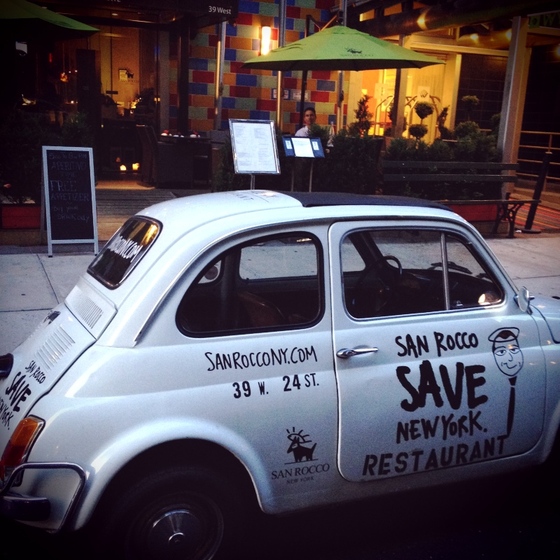 10:00pm: We enjoyed being outside so much because San Francisco's summers are pretty chilly and decided to head to 230 Fifth, a rooftop bar a few blocks away. The drinks are nothing to write home about, but the view was spectacular.

Thursday, July 19
8:00am: Ouch. We stayed out later than I planned too. This somehow seems unavoidable in New York. We arrive at the corner of 7th Avenue and West 12st Street to discover that West 12th is closed for construction, and it's a one way, so coming up from 6th Avenue to get to the JBF house at 167 W 12th Street is not an option. We have to park 2 blocks away and carry all of our prep in.
8:20am: My entire crew is now at the James Beard House with a massive prep list, so we dive right in.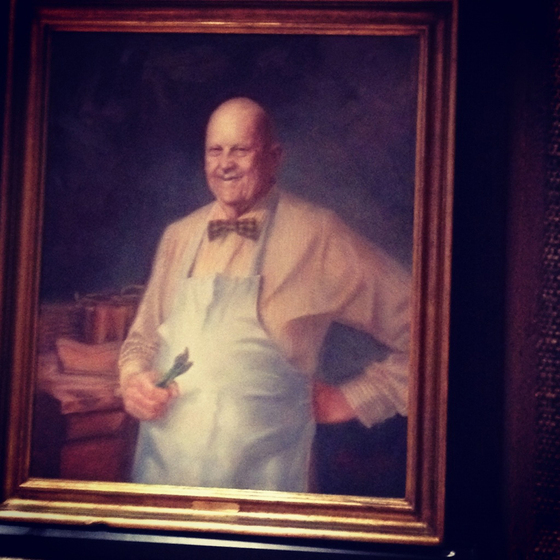 11:30am: Break. We had Murray's bagels delivered. These are the best bagels I've ever had. They are made fresh throughout the day so toasting isn't necessary, and they came with all sorts of toppings and schmears.
12:00pm: One of my original dishes (red sea bream cured with sake and seaweed, shaved scallion, fried dulse, cintronette) had to be switched out because the fish was no longer available. We found out before we flew, but no opportunity to decide what to do with the tai snapper I replaced it up until this point. And, we were seven hours away from dinner time. We kept the same technique and accompaniments, but begin to prepare the tai snapper as tartare before we cured it.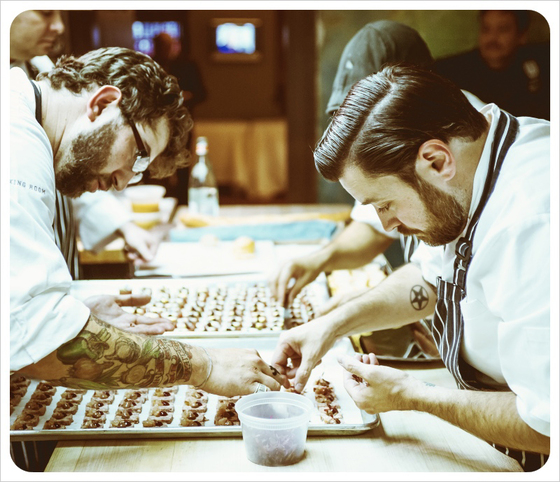 6:45pm: The kitchen in the James Beard House is very small and hot. I take a minute to breathe and put on a fresh chef coat, just as guests are beginning to arrive.
7:00pm: Doors open and guests begin to trickle in. There was a pretty diverse group of people which was nice to see -– some on dates, some with friends, some on business. Because of the way the house is set up, people have to enter through the kitchen to get to the courtyard for the reception. Fun for the guests; not so fun for the kitchen staff as we rushed to plate the hors d'oeuvres. I take a peek outside and everyone looks to be having a great time sipping our signature cocktails.
8:00pm: Dinner time. I could not have done it without the help of the Absinthe team: Justin, Bill, Luly and Luis in the kitchen, and our beverage team, Aaron, Matt, and Jeff, who ensured every guests' glass remained full. Our heads were down and the assembly line in motion until the last course.
10:00pm: After dessert goes out, my team and I say a few words to guests in the main dining room. One of the longtime James Beard House members says this is one of the best dinners she has been to in 25 years. I'm elated, and ready to celebrate.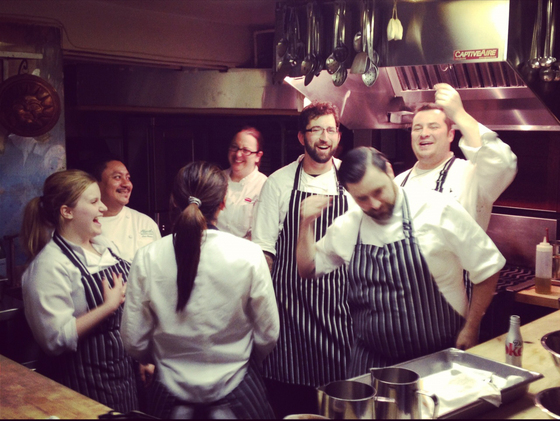 11:30pm: We take a group shot right out front of this historic spot, say goodbye, and make our way to the rooftop bar again. I realize that there are hundreds of options at our fingertips, but after being couped up in a kitchen all day, I just want to sit outside with all my colleagues and friends, be able to hear each other, and the rooftop bar did not disappoint before.
Friday, July 20
9:00am: I slept as long as I could but now it's time to pack and head for my long flight to France out of JFK. I will be in Eugenie Les Bains for the next 10 days to stage in Michel Guérard's kitchen at Les Prés d'Eugénie and then make a quick trip to Paris before coming back home to San Francisco. Chef Guérard is one of the founders of nouvelle cuisine. I am excited, nervous, tired, and wide awake all at the same time.
9:45am: I'm out the door, on my shuttle through the crazy traffic to the airport and plan to get a coffee immediately after checking in.
12:00pm: My flight leaves and I'm on a plane for the next 10 hours or so. Bed time.
See more Food Informants below:
PHOTO GALLERY
Food Informants